Novelist Louise Bagshawe on her new life as an MP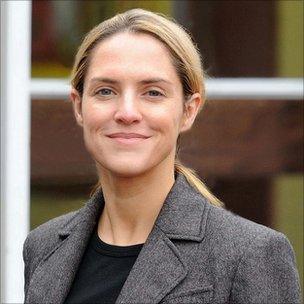 She made her name as a bestselling writer, before becoming a Conservative MP last year, so how is Louise Bagshawe adjusting to her new life?
Louise Bagshawe is a single mum. She is a novelist who has sold about two million books. She also represents more than 90,000 people as a Member of Parliament.
In one of those career-defining statements which can sometimes come back to haunt people, Ms Bagshawe once said: "Of course women can have it all, if they want it all. I won't hear any defeatist talk."
There would hardly be any time for it, even if she wanted to complain.
Snacking on a muffin in the atrium of Portcullis House, where Westminster politicians go to gossip and socialise, she seems driven by adrenalin, having been elected the Conservative MP for Corby, in Northamptonshire, at last year's general election.
"It's unbelievably hectic," she said. "Having previously been a writer, where my office was my bedroom, it's very different. It's been a long time since I had a real job, and that was working in the record business for five minutes.
"When I became an MP it was nought to 60 in 10 seconds."
Ms Bagshawe, a 39-year-old Oxford graduate, the author of titles including Passion, Glitz and Sparkles, is a fast talker.
One of the Conservative Party's "A-list" of potential candidates, she was picked to fight Corby, a marginal Labour-Tory seat, five years ago.
The A-list has been portrayed in the press as a group of "bright young things" eager to take over Westminster.
Ms Bagshawe is sceptical of the label.
"I remember bumping into [newly elected Tory MP] Jo Johnson soon after I arrived in Parliament. I'd never met him before, but he jokingly stopped me in the House and informed me that we were best friends.
"Some of the stuff written about the A-list is a lot of old rubbish."
Ms Bagshawe's literary efforts have attracted similar opprobrium from certain critics.
In the Guardian newspaper's Digested Read, reviewer John Crace wrote of Desire, a murder-mystery published last year: "Vote for Louise. If only to stop her writing."
Ms Bagshawe - a one-time Young Poet of the Year - accepts the "chick-lit" label, arguing that it would be pointless to try to fight it.
Her career has given her a bigger profile than most of the 2010 cohort of MPs, although she contends she is "not at all a celebrity".
Ms Bagshawe is still writing.
"I have tried to do it early in the morning, but there's never time, so I do it mainly during recess periods - cramming it in to nooks and crannies."
She is keen to stick with fiction, rather than revealing all about Westminster.
"I'm very glad that [former Labour minister] Chris Mullin wrote his diaries. He wasn't one of the biggest names in Parliament and that was why the books were interesting, in a way.
"But I just wouldn't do it myself. I feel a sense of loyalty to my colleagues. I don't want them thinking they are going to end up in a diary or some memoirs."
Ms Bagshawe, a lifelong Tory supporter - except for a flirtation with Tony Blair's New Labour in the mid-1990s - was spotted by party grandee Oliver Letwin during a debate at the Oxford Union in 2004. She became an A-lister soon after David Cameron was elected leader.
Her hero is Margaret Thatcher, so might she consider a punt at the highest of offices? After all, two of her party's great figures - Winston Churchill and Benjamin Disraeli - were known for their literary output.
"You can't start talking about your future career path," she said. "Do the job as well as you can and then see.
"Politicians always look like idiots for something they said 10 years ago. I've always been ambitious, but my ambitions are reasonably amorphous. I want to do well, but that doesn't culminate in being prime minister. I just want to progress in my career."
Ms Bagshawe got a sense of the pressure facing Mr Cameron when she asked him about planning issues in Corby at prime minister's questions.
"It was my first time. It was so terrifying. I've been public debating since I was eight, but it was all very different at PMQs.
"I got into Parliament and suddenly my heart was pounding and my palms started sweating.
"I had a good question prepared. As the time came closer I found my heart pounding faster and faster.
"[Fellow Tory MP] Mark Lancaster was saying 'Breathe in and out and don't stop'."
She managed to ask the question, before taking her seat.
"I would not wish being prime minister on my worst enemy. I had renewed admiration for Cameron and Miliband after that."
Back in 1996, when the Spice Girls were just making it in the charts and John Major's Conservative government seemed to be heading towards defeat, Ms Bagshawe, who had had her first book - Career Girls - published at the age of 22, did the unthinkable.
Impressed by Tony Blair, she switched sides.
"I consider myself socially liberal and economically conservative," she said. "I call it 'mellow conservatism'.
"So I joined the Labour Party, which I thought better represented my views at the time. Then I felt like an idiot. I never went out campaigning for them.
" I didn't like what the Conservative Party was saying at the time, all the stuff about 'back to basics'. To my mind Conservatism is about liberties and freedom."
The stockbroker's daughter soon returned to the party after her mother took a safe Lib Dem seat for the Tories in the local elections in 1997.
"We started talking about my move to Labour and mum told me not to be stupid."
Nine years later she was selected to fight for Corby in 2006, remaining the Conservative candidate for four years, as Gordon Brown delayed a general election until almost the last possible moment.
"I did feel a responsibility to help the party get into government by winning marginal seats. I'm proud that I took that seat off Labour."
How does she juggle her responsibilities?
"I've got three kids and I'm divorced," she said. "My ex-husband is a wonderful father. In Parliament, my party's whips are very supportive. They've enabled me to do this job as a single mother. They've given me flexible working, as far as possible."
Friday nights are about "homework and tea", while Saturday and Sunday are spent "mostly with the kids".
Ms Bagshawe's majority at the election was just 1,951, making it a Labour target next time round.
So, does she fear that the coalition's spending cuts programme could scupper her chances?
"Before I was elected, I was quite open about the need to make spending cuts," she said. "If I lose my seat I will never say I don't care, but I can say I did the right thing."