Forest sell-off plan becomes political battleground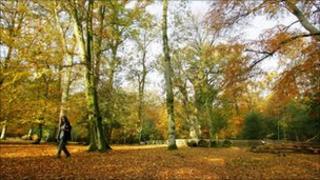 When ministers drew up their plans for radical reform of the NHS, schools and the welfare system, they probably never imagined that the issue which would really get Middle England riled would be… trees.
And yet the government now find itself assailed on all sides over the planned sell off of forests in England, by angry letters in the Daily Telegraph, Judi Dench, Melvyn Bragg, the Archbishop of Canterbury and people who simply like going for a Sunday stroll after lunch.
Beleaguered officials inside the Department for Environment point the finger of blame at a media they believe has misreported their plans and whipped up an unnecessary public scare that forests are to be sold to unscrupulous individuals set to close them off to the public.
They say the forests will instead be leased, ensuring that tight conditions can be attached ensuring public access.
Perhaps more importantly, they stress that if there is no buyer, or the buyer is unwilling to meet public access conditions, forests will continue to be owned by the Forestry Commission.
And yet, despite such reassurances, one senses that public opinion is unlikely to be swayed by such arguments. It appears that ministers may be fighting a losing battle.
This, one suspects, has little to do with politics and rather a lot to do with a hazy sense of national identity.
Selling off forests, upsets the instincts of Middle England and a view of our history, and a general sense of what makes England a decent and civilised country to live in.
lt is almost as if the government were to decree that Blake's Jerusalem should never be sung in school again.
Many of those protesting and signing petitions have probably never got hopelessly lost in a dark and damp wood. Some may never have ventured beyond the well lit pavements of urban Britain.
But that's not the point. Forests are a bit like the NHS, or Post Offices, or libraries.
It may be that the private sector of charities could run these things an awful lot better. For many people however they are part of the rather worn but much loved, cultural and historical tapestry of England.
It is not so much about politics as about an idea of "this green and pleasant land".
So never mind the changes to benefits, free schools or GP commissioning - it may be forests that prove to be a reform too far.