Labour ponder prisoner votes after Straw-Prescott row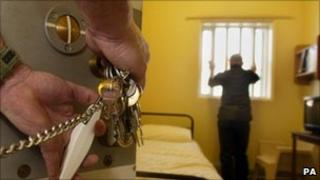 The shadow cabinet will meet later to decide its stance on prisoner voting rights after two ex-Labour ministers clashed over the controversial issue.
Jack Straw and Lord Prescott rowed over it on Monday at a Westminster meeting.
They disagreed over whether the Commons should defy a European Court ruling requiring that prisoners in the UK be given the vote.
MPs will debate the issue on Thursday and the government says it will do the minimum possible in order to comply.
At present, in the UK, only prisoners on remand are allowed to vote.
In 2005, the European Court of Human Rights ruled that blanket ban unlawful, and in June, the Council of Europe, which enforces the court's decrees, urged the coalition government to rectify the situation.
The government says it has been advised that unless the law is changed it could face compensation claims from prisoners costing well over £100m.
It has proposed giving the vote to those sentenced to a year or less, but many Conservative MPs are still threatening to rebel.
Thursday's debate was secured by senior Conservative backbencher David Davis and former Labour cabinet minister Jack Straw who convinced a new Commons committee to allow a vote on the issue.
'Divisions laid bare'
The shadow cabinet is considering abstaining, but will make a final decision at its meeting on Tuesday.
Backbench MPs of all parties will have a free vote.
The BBC's political correspondent Carole Walker says the issue is posing huge problems for all political parties, but on Monday night the deep divisions within Labour were laid bare during a meeting of its parliamentary party.
While Mr Straw argued that this was an opportunity for the Commons to stand up to the European Court, Lord Prescott told him he should accept the court's ruling.
The former deputy prime minister pointed out that Mr Straw was home secretary when Labour signed the Human Rights Act.
Last week, Justice Secretary Ken Clarke warned MPs against opposing moves to allow some prisoners the right to vote.
He said ministers had to obey the law, and despite some "over-excitement" about the story, most prisoners would not bother to vote anyway.
Prime Minister David Cameron has said the thought of giving prisoners the right to vote makes him "physically ill".
The voting rights of prisoners is a UK-wide issue and will affect Scotland and Northern Ireland even though the administration of justice is devolved.