Ex-MP Jim Devine's account 'incredible', jurors told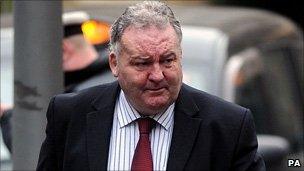 Jurors trying an ex-MP over his expenses claims have been told his account is "simply incredible".
Wrapping up for the prosecution, Peter Wright QC said Jim Devine's arguments had been contradicted by other witnesses and himself.
He said Mr Devine had embarked on a "dishonest fraud... hoping and believing he could get away with it".
Mr Devine denies three counts of false accounting relating to £8,745 claimed for stationery and cleaning.
He had been facing two charges, but jurors were told that was now being split into three, all involving what the prosecution says were bogus invoices from a cleaning company and a printing company.
The defence will wrap up its case on Wednesday morning before the judge sums up.
Mr Wright told jurors to consider "the principles of conduct in public life" of openness, honesty and transparency.
'Concealment, dishonesty'
He said the former MP for Livingston instead chose "concealment, dishonesty and a complete lack of transparency".
"He knew that what he was embarked upon was a fraud on the public purse."
Under cross-examination on Tuesday Mr Devine denied "wholly deliberate deceit" in submitting his Commons expenses.
He says he was advised, by another Labour MP and by expenses officials at the Commons Fees Office, that he was allowed to use money in his communications allowance to cover staff costs.
Mr Devine says he did not benefit personally from the claims. He says the £5,505 he claimed for stationery was used to pay a woman, referred to in court as "Miss X" for six months' work, cash in hand, but he would not name her.
The trial has been told he was concerned she would be investigated for benefit fraud.
He says he did have a cleaner - called Larissa - but paid her cash in hand and not been able to contact her. He said she "ran for the hills" when he was charged.
Mr Wright told jurors the prosecution's case was that neither the cleaner, nor Miss X, existed.
"It's as much a figment of Mr Devine's imagination as a great deal of this case is."
He said Mr Devine had not considered it prudent to get any sort of record of the cleaner Larissa, and had discarded the only phone with her contact details on it - despite increasing press and police interest in his case.
"We say that that account is simply incredible and is an account that does not bear any scrutiny whatsoever," he said.
On the allegation he was advised he could make claims for printing in order to pay for staff, the prosecutor added: "Each and every time that any civilian witness or MP is brought along to give an account - it doesn't bear much of a resemblance to his version of events."
The former MP's own account of events had "modified and flatly contradicted what he said only moments earlier", Mr Wright said.
He said the former MP had been going through a divorce and had legal bills to pay but Mr Devine denied having financial problems at the time.
The prosecutor said there was "no special category for MPs" and what Mr Devine had done was "dishonest by the standards of reasonable and honest people".
Earlier Mr Devine was cross-examined about an interview he did with Channel 4 News shortly after being charged.
Asked about apparent discrepancies between the interview and his version of events, the former MP said he had been "completely devastated" at the time by the police charges and should not have done the interview.
He said his "thought process was all over the place", he did not expect to be asked in detail about the charges, and he had not seen the receipts in question for some time.
"It was not the cleverest thing I have done in my life," he said of the interview.
Asked why he had not named either the Labour MP nor mentioned the Fees Office staff who advised him about using his communications allowance, he said he did "not want to drag anybody else into this".
He admitted it was "really stupid" to have kept blank invoices from one cleaning company - Tom O'Donnell Hygiene and Cleaning - after he stopped using their services, and use them to submit claims for cleaning by Larissa.
Asked why he did not simply ask Larissa for a receipt he replied: "I honestly can't remember."
Asked whether his claims had been "above reproach", Mr Devine said: "I was provided a service, I paid for that service, I used the wrong receipts I do not dispute that."
Asked if they had been dishonest he said: "No, I don't accept that. If I was dishonest I would have made money out of this."
But he conceded the invoices "were not totally true".
However he said he had been "very open with people in the Fees Office" about what he was doing with his communications allowance and "Nobody in the Fees Office said 'you can't do this'."
Mr Devine, 57, of Bathgate, West Lothian, has just finished eight hours over two days in the witness box at Southwark Crown Court.