Equality laws aid economic recovery - Trevor Phillips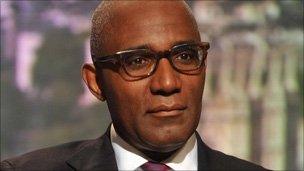 Britain has no chance of a "sustained" economic recovery without greater fairness at work, equalities chief Trevor Phillips has said.
In a speech, Mr Phillips urged sceptical firms to see the new equality laws as a "competitive advantage".
He also dismissed the row over Top Gear presenters' comments about Mexico as a "bit of schoolboy provocation".
Getting involved in such controversies undermined the Equalities and Human Rights Commission's work, he added.
"Both the Top Gear tendency, which bangs on about obnoxious feminists, and the PC lobby which wants the commission to be a strident, boot-faced, politically correct thought police are now just hanging on at the fringes of public life," he said.
"They are all, like the dinosaurs, on their way out.
"Britain has moved on. So we too have to move on, adopting an approach which learns from the past but is designed for the future."
As a former television producer, he said Top Gear presenters Jeremy Clarkson, James May and Richard Hammond were clearly good at their job.
"They have created a set of on-screen cartoon characters, which from my own brief experience of meeting Clarkson, are nothing like the real people," he told the audience at the Policy Exchange think tank in central London.
"But they do the job they're supposed to do - get millions of people to watch a bunch of middle-aged blokes mucking about with cars."
The BBC was forced to apologise after the Mexican ambassador in London complained about presenters' comments that Mexicans were lazy and feckless.
But Mr Phillips added: "Getting into a ruck with Clarkson over what he says about one group of people or another won't change anyone's mind or tackle prejudice."
He also praised Sky Sports for its swift reaction to the Andy Gray and Richard Keys sexism row.
And he hit back at claims police had been afraid of investigating allegations about Pakistani men "grooming" young white women because they feared being branded racist.
"If you are a cop, just do your job. Don't come whining about a climate of fear. Just do your job," he told the meeting.
Mr Phillips said he wanted to reform the work of the commission, which is facing a 60% budget cut, to about £22m by the next election, and is expected to lose half of its 460 staff - so that it took a more "evidence-based" and "scientific" approach to tackling inequality.
The Government Equalities Office has said the commission "has not been careful enough with taxpayers' money".
Mr Phillips said in future it would spend less time on expensive court cases - restricting future cases to what he called the "really bad guys" - and would concentrate instead on "evidence-based" campaigns against discrimination.
But he said the commission's main aim over the next five years would be to "ensure that the recovery, however faltering and fragile, is fair and inclusive".
He believed it could play a "major role in getting Britain back to prosperity" - through the "sensible" use of its powers, contained in the new Equalities Act, which was passed by the previous Labour government and has been enacted by the coalition.
He urged firms to employ the talents of ethnic minorities, women and disabled people - which he said tended to suffer most during recessions. This would help end industry's reliance on "exploited" immigrant labour and cut the benefit bill, he argued.
He said both Chancellor George Osborne and Treasury Chief Secretary Danny Alexander "strongly support" the commission' s calls to ensure spending cuts do not "fall disproportionately on disadvantaged groupings".
"They understand that unless their plans can be shown to be fair they stand little chance of securing the sustained and widespread political support they need."
And he said he wanted to tackle to "fear" among some business people that equality legislation was a barrier to employing women, disabled people and other "disadvantaged" groups.
"Equality is not a burden to the nation. It is part of what Britain expects. It is part of doing the right thing in our modern society.
"To business I would say that we want to make it a competitive advantage to be fair and inclusive."
He added: "We are now living in a country that is on the side of our mission but which also expects us to be more than a noisy commentator.
"The commission wants to be a catalyst for change not as a state-funded pressure group but as an evidence-driven champion."
Related Internet Links
The BBC is not responsible for the content of external sites.