Remove barriers to marriage urges Duncan Smith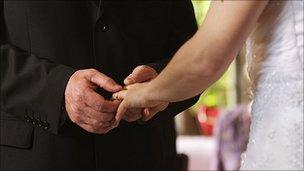 Iain Duncan Smith has praised the benefits of marriage and said financial barriers stopping people from tying the knot should be removed.
In a speech marking National Marriage Week, he said couples should get extra financial help to demonstrate society's belief in the value of marriage.
Prime Minister David Cameron was still committed to "recognising" marriage in the tax system, he added.
But he acknowledged this may face opposition from the Liberal Democrats.
The Conservatives dropped a pre-election policy for a marriage tax break in the face of Lib Dem opposition.
In a speech praising the benefits of marriage, the work and pensions secretary said Conservatives would have to work hard to "make the case" to their coalition partners and others about the policy's value.
"It is not something everyone agrees with," he told an audience in London, acknowledging that many Lib Dems were likely to abstain on any vote on the issue.
He added: "We have to make our case and persuade people if we are going to succeed."
David Cameron has said he wants to provide additional financial help for married couples and those in civil partnerships before the end of the Parliament but has not given any details of what this would entail.
"There is no-one stronger on this than the prime minister," Mr Duncan Smith added. "It is very much a personal commitment of his and he treats it as such."
Mr Duncan Smith also raised concerns about the trend towards "Hello style weddings" which he said risked pushing many newly weds into debt.
While it was not new for couples to worry about whether they could afford to get married, he said the average cost of a wedding had risen to £20,000 and was a serious deterrent for couples wanting to tie the knot.
"What has changed has been the Hello-style idea that if you get married and can't show yourself in a Hello light, then somehow you are a bit of a failure," he said.
Hello magazine is famous for its lavish photo shoots of celebrity weddings.
Mr Duncan Smith said it was not ministers' place to "lecture" people on how much they spent on their wedding, pointing out that the wish to celebrate the occasion properly was a "good thing".
But Mr Duncan Smith - who acknowledged that he was not a Hello reader - added that it was not healthy for newly-married couples to be saddled with a "hangover of debt" from day one.
"It must put enormous pressure on the relationship right from the start."
He added: "What seems to be forgotten is that the point of marriage is love, commitment and creating a safe environment in which to bring up a family. None of those costs more than the price of a marriage licence."
Addressing family policy in general, Mr Duncan Smith said successive governments had "shied away" from talking about the benefits of marriage but the days the subject was seen a "no-go area" were over.
While politicians should not "moralise" or engage in "finger wagging" over the issue, he said ministers had a duty to remove any barriers to help the large number of people who aspired to a long-term commitment with their partner - whether in the form of marriage or civil partnerships.
He said the government was looking "very hard" at how to tackle disincentives to marriage in the benefits system.