David Hasselhoff in surprise meeting with David Cameron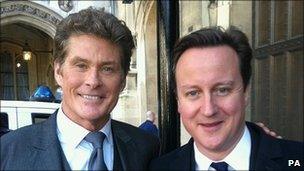 Actor David Hasselhoff has appeared at Westminster, giving David Cameron one of the surprises of his career.
The star of Baywatch and Knight Rider put his arm round the PM, whom he addressed as "buddy", after a chance meeting outside the Commons.
The two men posed for pictures and Mr Hasselhoff, a friend of Tory MP David Morris, continued his tour of the historic Palace of Westminster.
An aide to Mr Morris called the spectacle "very surreal".
Mr Hasselhoff, who made his name as Michael Knight in the 1980s show Knight Rider, is in the UK in his new role as a judge on ITV's Britain's Got Talent.
Internationally famed for his appearances as a trunk-clad lifeguard in the worldwide hit show Baywatch, he was also a singer, being particularly popular in Germany.
Mr Hasselhoff was invited to Westminster by Morecambe MP Mr Morris, a former song writer, to promote his campaign to reopen the town's Winter Gardens.
An aide to Mr Morris explained: "The Hoff came over for lunch and the funny thing was that David Morris was supposed to be going to Downing Street in the afternoon.
"He said to the Hoff 'Why don't you autograph a photo for David Cameron?' He did so and, just at the moment he was doing so, a bulletproof Daimler pulled up into New Palace Yard and out stepped David Cameron.
"The prime minister asked what he was here for and the Hoff replied: 'To see you, buddy.'"
But the two men did not have time to discuss the coalition government's plans for fuel duty or the proposal to close some coastguard stations.
After posing for photographs with the actor, Mr Cameron left the scene.
Mr Morris's aide said: "It was all very surreal."
Mr Cameron was "bemused" by the encounter, a spokesman said.
Mr Hasselhoff also surprised England cricket fans recently when he turned up at an Ashes Test match in Australia and practised in the nets against bowling legend Shane Warne.