Landale Online: Rebellious peers to use AV voting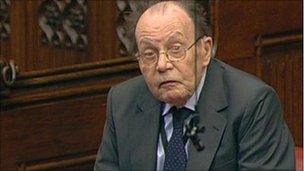 Sometimes in politics, as in life, events conspire with exquisite timing to raise a smile and reveal a truth.
And so it is in the House of Lords.
For peers who are currently blocking a referendum on the alternative vote for general elections are about to use the same system to choose one of their own.
The cause of this absurdity is the late Lord Strabolgi, a legend in the House of Lords, who died last December, aged 96.
He was one of 92 hereditary peers who were allowed to remain in the Lords in 1999 when all the others were kicked out.
It was agreed then that when any of the 92 died, there would be a by-election in the Lords to choose a replacement.
Normally the replacement peer is elected by other hereditaries from his or her own party or group.
But because Lord Strabolgi was one of the 15 so-called Deputy Speakers, the rules state that all members of the House of Lords can vote to choose his replacement.
And so that means that, on 22 March, between 10am and 8pm, 786 peers will have the right to traipse through the Moses Room in the House of Lords and cast their vote.
They will be able to rank as many of the candidates as they wish, writing the number one against their most favoured peer, two for their second and so on.
If no peer has more than half the votes, then the candidate with the fewest votes is removed and their second preferences are redistributed. And the process continues until one peer gets 50% of the votes and wins.
In other words, peers will use an electoral system inside the Lords that many do not wish people to use outside the House of Lords.
Of course, as a deputy speaker, Lord Strabolgi was technically independent but he was for most of his life a Labour frontbencher.
Which means that Labour peers in particular - many of whom have been delaying the AV bill with great assiduity - have a greater incentive to try to elect a Labour peer for the job, even if they have to use a system they oppose.
You could not make it up.
Related Internet Links
The BBC is not responsible for the content of external sites.