Flood defence funding cut by 8%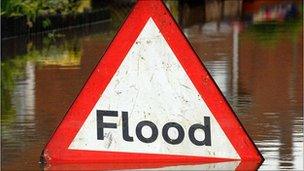 The government will spend £540m a year on flooding defences in England over the next four years - a cut of 8% from previous periods, the environment department has confirmed.
But projects in Leeds, York, Thirsk and Morpeth have been put on hold.
Environment Minister Richard Benyon disputed claims from Labour's Mary Creagh that schemes had been cancelled.
Responding to an urgent question in the Commons tabled by Ms Creagh, he said better protection was being provided to more than 145,000 homes.
He added that just because projects were not included in his announcement it did "not amount to the government cancelling schemes or saying that any particular scheme cannot go ahead in the future".
The Lib Dem MP for Leeds North West, Greg Mulholland, and the Labour MP for Leeds East, George Mudie, both criticised the decision to shelve flood defence work in the city.
Mr Mudie said: "Leeds city centre came within centimetres of flooding in 2000 and had numerous near misses. This is the largest city in the north and it cannot be allowed to be knocked out by flooding."
Morpeth in Northumberland was badly hit by flooding in 2008 when the river Wansbeck burst its banks and 1,000 homes were inundated.
The Labour MP for Wansbeck, Ian Lavery, asked for reassurances for his constituents.
But Mr Benyon said: "No schemes will have been cancelled. All defences already under construction will be completed.
"It's the nature of flood and coastal defence investment that there are always more projects than national budgets can afford at any one time," he said.
He said funding for projects expected in 2012-13 was under review.
"We have protected front-line services, such as forecasting, warnings and incident response, and the maintenance of existing defences," he said.
He said the Environment Agency was being asked to find 15% in efficiency savings as part of efforts to concentrate funding on front-line protection.
Among details announced by the Department for Environment, Food and Rural Affairs (Defra) were 39 new flood and coastal defence projects in England.
Of the new projects, 21 would provide additional protection to more than 13,000 households at risk of flooding, Mr Benyon said.
One of them was £5.7m to be spent protecting 182 houses in Keswick at risk from flooding of the River Derwent.
The remainder mainly relate to repairs to existing defences.
Among the schemes going ahead are:
Shaldon, Devon - £8.4m scheme to protect 450 properties.
Pevensey Bay, East Sussex - providing protection for 17,000 homes along the coast between Eastbourne and Bexhill-on-Sea.
Nottingham - £51m scheme to protect 16,000 homes and businesses along the River Trent.
Redcar, Cleveland - £25.5m scheme to reduce risk of coastal flooding for 1,000 properties.
Felixstowe, Suffolk - £10m scheme to reduce risks posed to 1,600 homes and businesses.
Upper Mole Flood Alleviation Scheme, West Sussex: £15m project to protect 1,000 properties in Crawley and Horley.
The shadow environment secretary said the government had cut the flood defence budget by £95m this year.
Ms Creagh said capital funding for flood defence had dropped from £354m to £259m in one year.
She said: "The Tory-led government are taking a reckless gamble with people's homes and businesses by cutting the flood defence budget by 27% in cash terms.
"We know that Leeds has lost out and people across the country face an uncertain future as they wait till next year to hear if their schemes will proceed or be cancelled.
"When Labour's deal with insurance companies to guarantee universal insurance runs out in two years' time, we must not end up in a situation where homes are uninsurable or insurance premiums are unaffordable."
Defra later explained that the figure of 8% given by Mr Benyon in his Commons statement was based on the average annual spend over the past four years - £590m - compared with the £540m average for the next four years.
On an annual basis, Defra's spending on flood defences has risen from £500m in 2007-08 to £664m in the current year. That covers both capital programmes and maintenance and operational costs.
The Defra announcement comes a day after a government-commissioned report warned of the potential impacts of climate change, including flooding of drainage networks and increased damage to buildings from storms.
The report, from the Engineering the Future - an alliance of professional engineering bodies - concluded that complete protection against climate impacts will not be affordable, and society would have to decide what levels of prevention should be funded for various types of threat.
Update 10 February: Following clarification from Defra, this story has been amended to explain how the figure of 8% was obtained.
Related Internet Links
The BBC is not responsible for the content of external sites.