'Big Society groups' mount fightback over spending cuts
By Norman Smith
Chief political correspondent, BBC Radio 4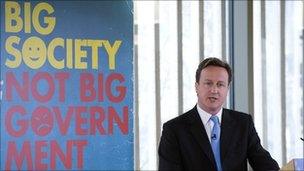 David Cameron has made much of his desire to encourage small, voluntary groups as part of his vision of the Big Society.
And yet it is now precisely those groups which are perhaps mounting the most effective challenge to the government's spending cuts.
The Big Society, it seems, is fighting back.
A growing number of small voluntary groups - which have often been hit hardest - are successfully going to the courts to get cuts to their budgets quashed.
This follows a key ruling in the High Court last month in which about 300 voluntary groups in London successfully overturned £9m of budget cut - at least for the time being.
They based their challenge on two key, legal grounds.
First, they argued, local authorities have to ensure they consult properly about any proposed cuts and give those affected adequate time to respond.
And secondly, councils have to ensure the cuts comply with equalities legislation and do not unfairly hit minority groups, such as those representing people with disabilities.
The High Court accepted both arguments in a ruling which has now opened up a legal crack in the cuts programme.
The lawyer who won the case, Louise Whitfield of Pierce Glynn Solicitors, says she has been "inundated" with calls from other voluntary groups seeking to mount similar legal actions.
"I think it will be a lifeline for organisations working with people with disabilities, women and people from black and minority ethnic communities because it will mean that public authorities will have to look very carefully at the adverse impact on them of cuts," she says.
Voluntary organisations in Leeds, Bradford, Wakefield, Kirklees and elsewhere are already gearing up to launch their own legal challenges.
For local councils, such court cases are a potential nightmare forcing them to go back to the drawing board and begin the consultation process all over again.
This is a process lawyers like Louise Whitfield believes could take up to nine months or longer.
The difficulty for many local authorities is that because the government's spending cuts are "front loaded" many of them have been under huge pressure to find savings quickly.
This is why many are potentially vulnerable to claims they have not consulted properly, or carried out so called "equality impact assessments".
The Labour leader of Bradford Council warns that if he is forced to delay some cuts for up to nine months in order to carry out a fresh consultation process and ensure the proposals do not flout equalities legislation it will simply mean even bigger cuts later on.
"We would have to make so many cuts in that last three months that you would see an absolute devastation of the services we provide," Councillor Ian Greenwood says.
"We have a situation where there is a fixed amount of money and if you cannot make the cut for whatever reason, then all you are doing is multiplying that cut."
The hope of many of the small, voluntary groups affected, however, is that faced with such a financial headache local councils like Bradford will simply look elsewhere to find their savings.
Related Internet Links
The BBC is not responsible for the content of external sites.