Bank agreement 'not tough enough' says top Lib Dem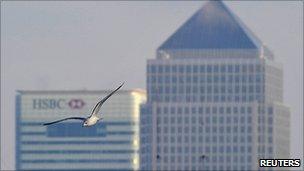 A senior Lib Dem has launched an attack on Chancellor George Osborne, branding his deal with the banks "pitiful" and Treasury negotiators "incompetent".
Treasury spokesman Lord Oakeshott said the banks needed "radical surgery" to end big bonus payouts.
But Treasury sources hit back at the peer, telling the BBC "he doesn't even know what he's talking about".
Mr Osborne has defended the agreement with the banks, saying it will boost economic recovery.
As part of the government's "settlement" with the UK's four leading banks, the amount they lend to business will rise from £179bn to £190bn this year while loans to small businesses will increase by 15% to £76bn in an attempt to support the economic recovery.
Total bonuses paid will fall this year while banks will be expected to publish salary details for the five-highest paid executives below board level but individuals will not be named.
Lord Oakeshott, a former City financier who advised Vince Cable in opposition, said there was no guarantee of there being a net increase in lending to small business and the pay disclosure measures did not go far enough.
"It does make useful progress on lending and disclosure though like a lot of the toxic products the banks offer us, the headlines are a lot better than the small print," he told the BBC.
The package failed to live up to the coalition's pledge to take "robust action" against excessive bonuses, he added, and would not stop bank bosses from receiving multi-million pound bonuses.
The public were entitled to ask why the bosses of RBS Group and Lloyds Group, which were bailed out by the taxpayer at the height of the banking still, would still be getting huge bonuses.
"Whether those are paid in cash or shares, they still mostly come out of our pockets. I see the agreement says they have to wait two more years to cash in. A multi-million pound bonus is still a multi-million pound bonus whether you have to wait two years to buy the yacht."
And he attacked the way that officials had handled the negotiations on what was known as Project Merlin.
"We have done the best we can to get the best deal but I don't think it is a good deal," he said.
"And I am bound to say I think the Treasury's negotiating tactics have not been very good. They have got an awful combination of arrogance and incompetence, most of them couldn't negotiate their way out of a paper bag and this has not been as tough a deal as it should have been."
Lib Dem MP John Thurso, the party's former business spokesman, played down the comments, telling the BBC News website: "Matthew [Lord Oakeshott] has his own inimitable style on these things. I think the government have actually made some progress in a difficult area but there is more to do."
The chairman of the Treasury Select Committee said the deal was a "reflection of reality", since ministers did not want to do anything to hamper the chances of getting the best deal for the taxpayer when the state-controlled banks are eventually sold back into private ownership.
"The banks are going to pay themselves big bonuses but we have got some restraint and some greater responsibility," Conservative MP Andrew Tyrie said.
Lib Dem Business Secretary Vince Cable has described the agreement as "reasonable" and insisted that it would provide a "substantial" boost in lending to small firms.
However, he has admitted that the bonuses being paid to RBS boss Stephen Hester and outgoing Lloyds Group chief executive Eric Daniels were "extraordinarily large".
It was vital that the independent commission currently looking at the future structure of banking industry dealt with the issue of "excessive profits", he added.