Liberal Democrat council leaders attack spending cuts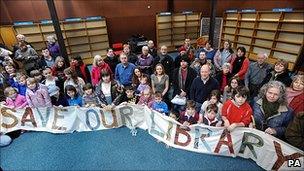 More than 90 prominent Liberal Democrat councillors, including the leaders of 18 local authorities, have criticised the scale and pace of government cuts.
In a letter to the Times, they say cuts will have "an undoubted impact on all front-line council services, including care services to the vulnerable".
They also accuse ministers of "denigrating" councils in the media.
But Lib Dem communities minister Andrew Stunell urged his party members not to "fall out" over "pointless debate".
The signatories, who include the leaders of Newcastle, Milton Keynes and Hull city councils, say they are facing the bulk of the cuts to their budgets in the coming financial year, giving them little time "to spread the cost of reorganisation and downsizing".
"Rather than assist the country's recovery by making savings to the public in a way that can protect local economies and the front line, the cuts are structured in such a way that they will do the opposite," they write.
The councillors also say they are being "let down" by Communities Secretary Eric Pickles and accuse the government of engaging in "gunboat diplomacy".
"The secretary of state's role should be to facilitate necessary savings while promoting the advance of localism and the Big Society. Unfortunately, Eric Pickles has felt it better to shake a stick at councillors than work with us."
One of the signatories, Hull Council leader Carl Minns, urged Mr Pickles to work with council leaders in a "sensible way" to enable councils to make savings without endangering vital services.
"Many councillors are starting to get sick to the back teeth of waking up in the morning and seeing Eric Pickles' latest broadside against local government rather than Mr Pickles standing up and saying 'How can I work with local government to deliver the savings this country badly needs to get out of the massive black hole Labour left it'," he said.
Mr Pickles has praised what he calls "can-do councils", who are "showing it's possible to do more for less and protect front-line services in the process".
David Cameron has also accused some Labour-run councils of making "politically motivated" cuts to key services like libraries and youth centres rather than making less damaging savings elsewhere.
Mr Stunell said the "woeful" deficit inherited from Labour meant "very tough times" for all public services.
"Whilst I fully understand the real challenges councils face, I think it will be much better to direct all our energy to solving these problems rather than falling out between ourselves," he said.
"I know just how keen every one of my DCLG [Department for Communities and Local Government] ministerial colleagues is to end Whitehall domination of local government and we are strongly committed to delivering that quickly.
"It would be a real lost opportunity if we let that slip while we engage in pointless debate. Let's get round the table and just sort this out."
Shadow communities secretary Caroline Flint said it was a "choice, not a necessity" to eliminate the bulk of the deficit over the next four years and to ask councils to make big savings in year one.
She added that Mr Pickles "spends a lot of time belittling local government" but that the Lib Dems were equally to blame for the speed and scale of cuts being pushed through.
But the Conservative Mayor of London, Boris Johnson, told BBC Radio 4's World at One: "There's a risk that people will get into a negative mindset and not look at the opportunities there may be for consolidation...
"[Given the level of spending] over the last 10 or 15 years, it really beggars belief that you can't find some savings."
The critical letter was published a day after Lib Dem Treasury spokesman Lord Oakeshott quit his post after criticising the government's deal on bank lending and bonuses.
He said he would continue to speak out on the issue, saying the obligations on banks were "weak and waffly".
Related Internet Links
The BBC is not responsible for the content of external sites.