Darren Gough turns down chance to become Tory candidate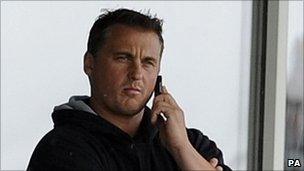 The Conservatives have revealed they approached former England cricketer Darren Gough about becoming their candidate in Barnsley Central.
The party said Mr Gough, a Tory supporter, had turned down the chance to stand in the by-election but would support its efforts to win the seat.
Mr Gough retired in 2008 after an international career spanning 58 Tests.
The by-election will be held on 3 March after former MP Eric Illsley admitted expenses fraud and resigned his seat.
Illsley won the seat in May 2010 with a majority of more than 11,000.
Prime Minister David Cameron spoke to Mr Gough personally to discuss the possibility of him standing, after the idea was floated by local party members, telling him it would be a "great idea".
Mr Gough, who grew up near Barnsley and played for Yorkshire for the majority of his career, decided he would not be able to combine running for Parliament with his other professional commitments.
The cricketer won the BBC's Strictly Come Dancing competition in 2005 and currently hosts a weekly radio show on TalkSport.
The Conservatives said they expected to finalise their candidate "very soon".