Councils' anger at government publicity ban
By Robin Brant
BBC News political correspondent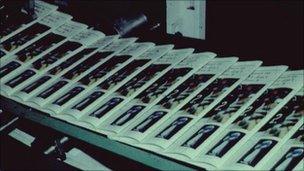 The government has moved to ban local councils using taxpayers' money to fund publicity it has labelled "vanity PR".
Local Government Secretary Eric Pickles has published new guidelines, including limiting councils to publishing four newspapers a year.
The move follows a row with one London council that put up posters apparently critical of government spending cuts.
Critics say the changes will threaten councils' communication with the public and central government.
Labour, the Local Government Association and the Association of Professional Political Consultants (APPC) have all attacked the changes.
The new guidelines also ban local authorities from employing lobbyists.
Mr Pickles claimed some authorities were "lobbying on the rates".
The role of outside consultants to advocate for local authorities was justified by the Local Government Association.
Its chairman Margaret Eaton told the BBC: "Whitehall is a maze of complexities and I think its very legitimate for local authorities who have a big issue... to use someone who can navigate the Whitehall complexities."
Asked why local politicians might need private consultants to communicate with other politicians, she said: "I don't think individual councillors know the complexities."
Part of the role of the organisation she leads, the LGA, is to represent and speak up for local government in its relationship with central government.
There is a statutory requirement for local authorities to engage with and communicate with voters and people in their areas.
The body which speaks for private lobbyists believes this will be under threat.
Gavin Devine, from the APPC, told the BBC: "The rules announced today will do nothing to help councils to communicate both with council tax payers and with decision-makers, and may well drive up costs.
"At a time when councils are under particular pressure that is deeply regrettable."
It is claimed that using in-house PR or lobbying specialists would be more expensive and likely less effective.
But these new guidelines from the Department for Communities and Local Government make it clear that private lobbyists will no longer be welcome.