Ed Balls warns of 'dangerous game'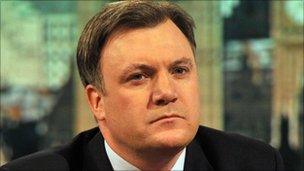 Shadow chancellor Ed Balls has said the government is playing a "dangerous game" with its spending cuts.
He accused David Cameron of taking Britain back to the era of "nasty confrontation" which marked Margaret Thatcher's years as PM.
Mr Balls told the BBC Politics Show North West, the government was mounting a "real assault" on public services.
The Tories said Labour would have cut just £2bn less under their own plans and were "trying to have it both ways".
In an interview broadcast on Sunday, Mr Balls said the coalition's leadership was out of touch with the realities of life facing ordinary voters.
He said: "I think David Cameron is playing a really dangerous game here.
"People remember the 1980s - deep cuts, trouble in the streets and Margaret Thatcher goading confrontation, blaming local councils," he said.
"David Cameron is taking us back to those days. I think people up and down the country are saying: 'Look, we've moved beyond that. We don't want that nasty confrontation.' I think he is making a really, really unwise choice here."
Mr Balls referred to a letter to the Times newspaper signed by more than 90 Liberal Democrat councillors - including the leaders of 18 local authorities - criticising the scale and pace of government cuts.
His comments follow a warning by Justice Secretary Clarke that middle class people were unaware of the scale of government spending cuts that would hit them this year.
Mr Clarke said the coalition should be prepared for political difficulty when Middle England felt the full impact.
He told the Telegraph: "One reason we're going to get some political difficulty is that [while] the public knows we've got to do something about it, I don't think Middle England has quite taken on board the scale of the problem.
"That will emerge as the cuts start coming home this year. We've got to get on with it [but] it's going to be very difficult.
"If someone says it's not as bad as all that, I say [they] just don't realise the calamitous position we're in."
But the Conservatives said Labour's own plans, set out before last year's general election, would have resulted in just £2bn fewer spending cuts, starting in April this year.
They pointed to an article Labour leader Ed Miliband wrote in the Independent on Sunday, in which he backs Alistair Darling's plans to halve Britain's budget deficit over four years, which they say would require £14bn in spending cuts - £2bn less than under the coalition.
Senior Conservative MP Michael Fallon said: "Ed Miliband and Ed Balls can't have it both ways.
"They claim they would tackle the massive credit card bill they left behind, but then refuse to say what spending they would cut to do it."
"Labour have saddled our children and grandchildren with billions of debt but have no credible plan to clear it up. Their only message is 'vote for us and we'll do it all again'".
Meanwhile, a new opinion poll has suggested 63% of people believe the impact of the spending cuts would be felt more by poorer households than the better off - up from 57% in December.
The ComRes poll for The Independent on Sunday and Sunday Mirror suggested almost as many, 57%, thought the government was cutting too far and too fast in its efforts to tackle the deficit - again up from 54% previously.
The company interviewed 2,009 adults in Britain online on 9 and 10 February for the poll.
Related Internet Links
The BBC is not responsible for the content of external sites.