MP Elfyn Llwyd criticises care for military veterans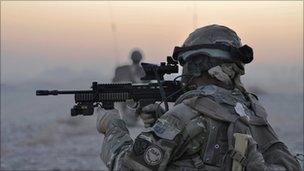 Veterans are being "stitched up" by ministers' failure to put the military covenant into law, an MP has said.
Plaid Cymru MP Elfyn Llwyd said an opportunity had been "badly missed".
Last year David Cameron said the covenant - a promise of a duty of care - could become law. But critics say a proposed annual report on the covenant in the Armed Forces Bill is a U-turn.
Mr Llwyd, Plaid Cymru's leader at Westminster, plans to table a series of amendments to the bill.
"It is politicians who place these brave troops in harm's way. We owe them a duty to ensure their wellbeing upon their return home. Anything else is a breach of the military covenant," he said.
Mr Llwyd said he had been excluded from committee stage of the bill, saying it "smacks of a stitch-up - in the same way as this toothless clause is stitching up veterans".
"There is a mandatory duty on the government to implement the military covenant.
"The last Labour government failed pitifully in this respect and we are still seeing increasing numbers of veterans in prison - maybe as high as at one in nine of the prison population.
"This was an opportunity to put veterans' welfare at the heart of the bill - one that has been badly missed."
He added: "I fear that this government is about to continue in this failure to our troops."
Mr Llwyd said his proposed amendments would force the government "to show whether they are serious about implementing the military covenant".
The government denies it has made a U-turn since Mr Cameron last year expressed a wish to set out formal commitments on matters like education for military children and care for troops injured on the battlefield.
"I want all these things refreshed and renewed and written down in a new military covenant that's written into the law of the land," he said during a visit to HMS Ark Royal last June.
Last week, Royal British Legion director general Chris Simpkins told a committee of MPs that troops found it "pretty depressing" the covenant was not included in the bill as it stands.
A proposal in the bill for the defence secretary to report annually to Parliament on the state of the covenant was no substitute for enshrining the concept in law, he said.
It amounted to "the MoD reporting on itself", Mr Simpkins added.
But Armed forces minister Nick Harvey said the covenant will be defined in the bill.
"For the first time we are actually defining the covenant and what it means," Mr Harvey told BBC Radio 4's Today programme.
Research by probation union Napo in 2009 suggested that 6% of prisoners, or those on probation or parole, were ex-servicemen.
Napo assistant general secretary Harry Fletcher said: "The Armed Forces Bill is an excellent opportunity to introduce measures on a statutory footing to minimise the chances of former armed services personnel ending up in the criminal justice system, with mental health problems or becoming homeless."
Related Internet Links
The BBC is not responsible for the content of external sites.