Incapacity benefit review suggests majority could work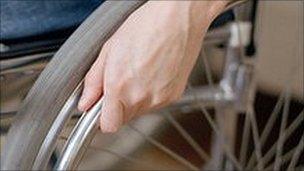 Ministers have said a pilot review of incapacity benefit has indicated that two thirds of claimants may be able to return to work in some form.
All those receiving the benefit in Burnley and Aberdeen are being reassessed, ahead of a UK-wide review of the payments starting in April.
Some 29% were deemed fit to work immediately while 39% could consider working with the right help.
The "fitness to work" test was changed last year after widespread criticism.
Charities expressed concern that it unduly focused on an individual's physical ability to work and did not take into account other factors such as mental health issues.
They also warned that people were not being given enough help to prepare for the test - which was backed up by an independent review of the system in November calling for a "more fair and effective" process.
More than 1.5 million people receiving incapacity benefit are to be reviewed as part of the government's drive to get people off welfare and into work, reduce poverty and cut the benefits bill.
Figures published by the Department for Work and Pensions found 31.3% of the 1,347 people assessed so far in Burnley and Aberdeen would not be able to work and needed unconditional support.
However, 29.6% were found to be fit to work immediately while 39% could "start the journey back to work" if receiving the right assistance.
"The initial findings from Burnley and Aberdeen serve to underline why it is right to reassess incapacity benefit claimants and to launch the work programme to give those who can work the specialist help they need to do so," said employment minister Chris Grayling.
Related Internet Links
The BBC is not responsible for the content of external sites.