Public given chance to scrutinise new legislation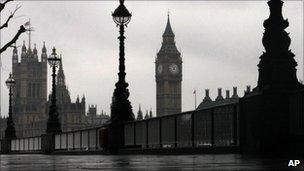 The public are to be given their first chance to "scrutinise" government legislation as part of efforts to enhance consultation on new laws.
The Protection of Freedoms Bill will become the first proposed law to be put online for detailed public comment.
People will be able to have their say on measures such as scaling back checks on adults working with children and reducing councils' "snooping" powers.
Ministers want MPs to take account of public views when they debate the bill.
From Tuesday, people will be able to leave their comments on aspects of the bill on a new website operated by the Cabinet Office.
The pledge was one of a number of steps in the coalition agreement between the Conservatives and Lib Dems aimed at increasing government transparency.
Prime Minister David Cameron said the initiative would result in better legislation being drafted and greater trust in politics.
"Right now a tiny percentage of the population write legislation that will apply to 100% of the population," he said. "This makes our laws poorer because it shuts out countless people across the country whose expertise could help.
"And it makes our politics poorer because it increases the sense that Parliament is somehow separate from the people rather than subservient to them.
"Our new Public Reading Stage will improve the level of debate and scrutiny of Bills by giving everyone the opportunity to go online and offer their views on any new legislation."
Labour have labelled previous consultations, such as those on the coalition programme and its plan for spending cuts, as purely cosmetic exercises.
Related Internet Links
The BBC is not responsible for the content of external sites.