Alan Clark 'offered to make Anne Robinson a Tory MP'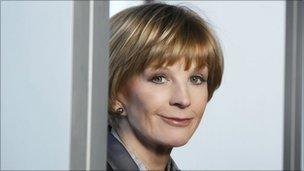 TV quiz show host Anne Robinson has revealed that she was offered a "fast track" towards being a Tory MP by the minister and diarist Alan Clark.
The presenter of BBC One's The Weakest Link told Radio Times he had suggested she give up journalism and contest a safe seat for the Conservatives.
Mr Clark said Ms Robinson could eventually become minister for the arts, she added.
She said it had been a "brilliant come-on line" from the famous womaniser.
Ms Robinson, who was a Fleet Street journalist before her career in television, told the Radio Times: "I knew Clark quite well. He once took me to lunch at the Savoy grill and my then husband said to me: 'He only wants to get your knickers off'. I said: 'Don't be so silly'.
"And then, over lunch, Clark said to me: 'Annie, I think you should give up journalism and become a politician. We'll fast-track you to a Tory seat and then you can become minister for the arts."
Ms Robinson added: "I thought: 'What a brilliant come-on line'. Telling me I had nice hair wasn't going to work. Appealing to my brain was absolute genius.
"I told him: 'I don't think so, Al. But my husband warned me you'd try to get my knickers off'."
Mr Clark died in 1999 from a brain tumour.
Ms Robinson, who will host a BBC Two Show My Life in Books, which starts later this month, chose the former defence minister's diaries as her favourite book.
She said: "The final parts of these diaries are written by Clark's wife Jane, when he's dying and too ill to write. They're incredibly moving: here's a man who'd been such an amazing character - and an errant husband - but he always loved his wife, and in those last weeks he was entirely dependent on her physically and emotionally."
In 2009, Ms Robinson said the Conservatives had asked her to run for London Mayor before Boris Johnson became the party's candidate.
Related Internet Links
The BBC is not responsible for the content of external sites.