Party funding: Gift Aid could 'decontaminate' donations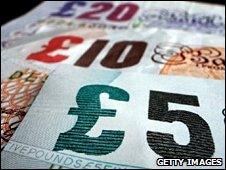 Tax relief on donations to parties could "decontaminate political giving", Conservative co-chairman Lord Feldman has told an inquiry into party funding.
Lord Feldman queried whether there was any public "appetite" for more state funding, if donations were capped.
Labour's general secretary Ray Collins agreed that "in the current climate" asking for more state funding would be "very, very difficult".
And he said a £50,000 cap on donations would disproportionately affect Labour.
Political parties are funded from a combination of membership subscriptions, donations, union money, loans, and public funds but there has been a series of controversies in recent years about donations - and loans - to all three of the largest UK-wide parties.
The main parties all pledged to do something about it before the election.
Lord Feldman and Mr Collins were among witnesses questioned by the Committee for Standards in Public Life on Tuesday, which is expected to publish a report on party funding in the spring.
Lord Feldman, who used to be the Conservatives' chief fundraiser, told the inquiry the public "would be extremely unhappy" if more state funding was introduced.
It would also benefit and "embed" existing parties, he said.
But he added: "The kind of state funding that we support wholeheartedly would be around Gift Aid."
People saw Gift Aid - where charities can claim back 25p from the Treasury for every £1 donated - "as a positive thing" and extending it to donations to parties "might do something to enhance the reputation of political parties", he said.
He said political parties performed "an incredibly important social function" adding: "They are basically a good thing, they are in some ways as good a thing socially as other great things like the RSPCA or Royal Marsden."
But, responding to the comments, Ben Kernighan, of the National Council for Voluntary Organisations, said: "We strongly believe that Gift Aid should remain the preserve of the charitable sector, to protect public interest and confidence in voluntary organisations."
Lord Feldman also said that apparent public distrust about the way parties were funded was "difficult to quantify": "There is a media perception that hasn't assured the public about the way parties are funded."
Lord Feldman said that, if a £50,000 cap on donations was brought in the Conservative Party "would have a substantial reduction in our income for an interim period.... It would have a short to medium term impact on our ability to run the party."
Things would balance out over a five to 10 year period, he said.
Tax relief might even increase donations to the party, he suggested: "I think it would decontaminate political giving, my instinct is it would be a positive force which would encourage people to engage in political giving."
But Labour general secretary Mr Collins said a £50,000 cap on donations - one of the recommendations of Hayden Phillips's previous inquiry into party funding - would "disproportionately effect the Labour Party".
Before the last general election the Conservatives received 225 donations of £50,000, while Labour received only 38, he said.
He suggested that if donation caps were still on the agenda there should be a £500 limit but admitted that that would "require other forms of funding" and extending state funding "in the current climate is a difficult issue for the government and political parties".
He said it would be better to try to "improve on the system that we have got" rather than embark upon a "radical" restructuring of party finance.
Mr Collins questioned where the evidence was that people had a problem with the current regulatory regime and said he was more concerned about the "arms race" in election spending between parties and transparency.
"I may be old fashioned but I think giving to a political party is a civic duty, not a crime," he said.
And he mounted a strong defence of Labour's relationship with the unions, saying that affiliation fees paid by members to the party was not a "commercial transaction" and having millions of people engaged in developing party policy was "a very important part of civic society".
The policy process was carried out at a local and regional level before going to the National Policy Forum, he said: "It isn't some backroom deal."
And he indicated that if trade union donations were to be included, Labour would not agree to a cap, adding: "If we are not able to move forward together I think the committee's work is to look at these difficult issues and how can we improve the current regulation."
Chris Fox, the Lib Dems' chief executive, backed tax relief for political donations but only if it applied to smaller donations - of about £1,000 or below - adding that it could help parties "engage with people again".
He said: "The idea that political parties are a good thing is something we are all agreed on in this room but may not be a wider public view."
His party favours a £10,000 cap on donations - assuming some state funding was introduced - but he said he would accept a £50,000 cap in the first instance as an "improvement on the current system".
He told the inquiry he had plenty of experience in dealing with sudden changes to a party's finances - overall the Lib Dems lost £2m in opposition funding when they joined the coalition, which he said amounted to two fifths of party funds.
But he said more state funding would be "difficult and hard to justify" to voters - politics had to be opened up to a broader group of people, and more people engaged in politics, if they were to be convinced, he said.
Related Internet Links
The BBC is not responsible for the content of external sites.