William Hague and Sergei Lavrov in UK-Russia talks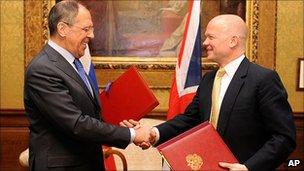 William Hague has warned it will "take time" for relations with Russia to improve after the "serious disagreements" of recent years.
After meeting his Russian counterpart Sergei Lavrov in London, the foreign secretary urged co-operation against the "common threat" from terrorism.
Anglo-Russian relations deteriorated sharply after the 2006 murder of former KGB spy Alexander Litvinenko in London.
Mr Lavrov said dialogue across a range of issues was "gaining momentum".
But the Russian foreign secretary, who also held talks with Prime Minister David Cameron, warned against calls for further political changes in the Middle East as "counter-productive".
London and Moscow are seeking to rebuild relations soured by Mr Litvinenko's death and the diplomatic row that followed it.
The UK is still seeking the extradition of Andrei Lugovoi, considered by British prosecutors to be the chief suspect in the case, but the Russian authorities have refused the request.
Tensions remain between the two countries and as recently as December, the UK expelled a Russian diplomat from London amid claims of spying. The Russian authorities responded by asking a British diplomat to leave Moscow a week later.
Mr Hague said the UK was seeking a "patient, steady improvement" in relations with Russia but this would not happen overnight given the recent history of discord.
"Yes, we have had serious disagreements between our countries. We do not always see eye-to-eye now. Where we disagree, we are able to raise it with each other."
He added: "There will be no giant leaps. It is about measured, practical steps."
The bombing at Moscow's Domodedovo airport last month, in which one British citizen died, showed the "common security threat" the two countries faced and the need for closer co-operation to tackle the threat of terrorism and organised crime.
Among practical steps to foster better relations, the secure telephone "hotline" between No 10 and the Kremlin - in place since the height of the Cold War - is to be modernised.
Mr Lavrov said closer economic ties between the two countries - reflected by a recent tie-up between oil giants BP and Rosneft - should be replicated by greater co-operation over security and immigration.
He urged the UK to consider allowing Russians to enter the UK without having to obtain a visa as part of efforts to create a "truly single Europe".
"A political dialogue between Moscow and London is gaining momentum," he said. "Contacts at the highest level have struck the right keynote for diverse British-Russian relations to develop."
But Mr Lavrov hit out at what he said were the West's calls for sweeping changes across the Middle East in the wake of the pro-democracy uprisings in Egypt and Tunisia.
"We are convinced that calls for revolutions are counter-productive. We have had more than one revolution in Russia and we believe that we don't need to impose revolutions on others," he said.
"We don't think we need to tighten the screw or take sides."
Related Internet Links
The BBC is not responsible for the content of external sites.