Back-to-work plan to help fewer people than Labour
By Laura Kuenssberg
Chief political correspondent, BBC News channel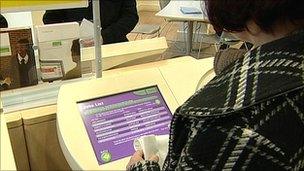 The government's new "work programme" will actually help fewer people than the existing schemes that ministers are scrapping, the BBC has learned.
David Cameron has described the plan as the "biggest and boldest" push to get people on benefits back to work.
But officials have said they expect 605,000 people to go through the scheme in 2011-12 and 565,000 in 2012-13.
About 850,000 people went through the last government's schemes in 2009-10 which are now being scrapped.
A Whitehall source said the difference in numbers was due to a "big jump" in the number of people being referred on to the programmes because of the previous rise in unemployment.
They also said there would be more intensive help for people at Job Centres even if they were not on the work programme - which begins in the summer.
But there are concerns too about whether the new system will actually function.
The work programme will use a new system of "payment by results" in which contractors will be paid according to how many people they get into work, how long they have been out of work, and how long they stay in a job.
The highest payments will be up to £14,000 for someone who had been on incapacity benefit for a number of years, then secured a job and was still in employment two years later.
But many in the industry have fears that the government has set the bar too high, and the scheme may just not be financially viable.
Graham Hoyle, the chief executive of the Association of Learning Providers - who represents more than 100 firms and voluntary organisations bidding for Work Programme contracts - says "there is no question" that some of them will go out of business, and community groups or voluntary groups hoping to get contracts are particularly vulnerable.
This casts doubt on the prime minister's hope that some voluntary groups which are losing funding through council cuts could be offered a financial lifeline by successful bids to provide welfare to work programmes that he suggested at his relaunch of the Big Society initiative on Monday.
Although the ALP is supporting the overall aim of the welfare reforms, Mr Hoyle said he thought the "numbers are wrong" and some contractors had actually pulled out of the bidding process because of fears of the financial risk involved.
"A lot of my members are making that plunge, but they are doing it looking over their shoulders, some are very worried, and some have already withdrawn."
There was a lot of "real interest" in the project, he said, but "the enthusiasm is being held back by some considerable fear that the whole package doesn't stack up".
"We are concerned of an underestimate that is inhibiting proper business planning and proper development of an infrastructure," he added.
The government says 170 tenders for the work programme have been submitted from 30 organisations and believes the new programme will deliver better results than the current system.
A Whitehall source said: "If you look at the last decade billions has been spent on a patchwork of provision which has consistently failed to get people off benefits and into work."
Related Internet Links
The BBC is not responsible for the content of external sites.