Egypt requests freeze on Hosni Mubarak's foreign assets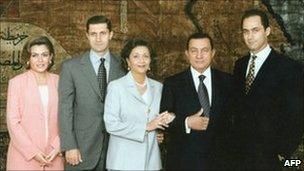 Egypt's top prosecutor has requested the freezing of the foreign assets of Hosni Mubarak, 10 days after the president stood down amid mass rallies.
Prosecutor General Abdel Magid Mahmud asked the Egyptian foreign minister to contact other nations on the issue.
He said the freeze would apply to Mr Mubarak, his wife, his two sons and two daughters-in-law.
Mr Mubarak is widely thought to have amassed a fortune during his nearly 30-year stay in power.
Many protesters and anti-corruption campaigners have been pressing prosecutors to open an investigation into the Mubarak family's assets, put at anywhere from $1bn to $70bn (£616m - £43bn).
However, Mr Mubarak's legal representative on Monday denied reports that the former president had grown wealthy while staying in office.
The representative said that "Hosni Mubarak has submitted his final financial statement to the concerned judicial bodies according to the law," according to Egypt's Mena news agency.