Libya unrest: Cameron warns Gaddafi over repression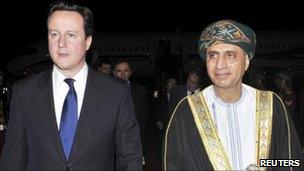 David Cameron has said no options should be ruled out for dealing with Libya if internal repression and attacks on its people continue.
The UK prime minister said Libyan leader Colonel Muammar Gaddafi would face "consequences" for his actions.
"The behaviour of this dictator cannot be allowed to stand," he told the BBC.
Hundreds of people are reported to have died since protests began last week and attacks by the regime on protesters have been condemned around the world.
Mr Cameron, who is on Oman on the latest leg of a trip to the Middle East, said the UK had been in the "forefront" of those speaking out against the Libyan regime and pressing for action by the United Nations.
The prime minister has said he would endorse a UN Security Council resolution against Libya although both the UK and the US have said the international community must speak "with one voice" on the issue.
Mr Cameron said a "full range of options" should be considered for dealing with the current situation but would not comment on reports that UK special forces were on standby to help rescue British oil workers stranded in the centre of Libya or the UK could help enforce a no-fly zone in Libya to stop further attacks.
He also indicated he was not opposed, in principle, to French-led calls for further sanctions on the Libyan regime.
"We have to firstly, get our people home. But clearly this behaviour cannot be allowed to stand. That is absolutely key. And I think that Britain, with her allies, should be looking at all of the options for the future," he said.
Asked whether he believed Col Gaddafi's behaviour was that of a "sane" man, the PM replied: "I am not a doctor but it is quite clear to me that someone who I have never supported, whose regime I have never supported, someone who is clearly behaving in a totally and utterly unacceptable way to their own people and you don't need to be a doctor or medic to know that.
"It is just a fact from what we have seen on our TV screens and what we have heard in the very moving testimony from people in Libya.
He was speaking after US President Barack Obama said the action of the Libyan regime was "outrageous" and flouted "common decency".
UK Foreign Secretary William Hague, who is chairing a Cobra security meeting on the crisis on Thursday amid criticism of the speed of the UK government's efforts to rescue Britons stranded in Libya, also warned Col Gaddafi against further "atrocities"
He said the international community was actively considering what further action to take against the Libyan regime.
"There is a great deal of shock around the world about the behaviour of the Libyan government so we will build on that over the next few days," he told BBC Radio Four's Today programme.
The foreign secretary warned Col Gaddafi, who has pledged to fight to "the last man and bullet" to hold onto power, and other senior figures in the regime that they would be held responsible for the attacks of the last few days.
"I think it will be important for all of us internationally over the coming days to increase the pressure on a regime which is, by all accounts, now committing serious offences, atrocities have taken place, attempts to fire on people of their country. That pressure must be stepped up.
"The most immediate thing we want them to understand and hear on the international airwaves is that we will looking for ways to hold to account the people who are responsible for these things and they should bare this is mind before they order any more of them.
"We will want some kind of international investigation. In order to bring this about, we have to persuade other countries but we are finding a lot of support from other countries."
Anti-government forces are in control of large parts of eastern Libya, including the second city of Benghazi but the BBC's Jim Muir said the picture was different in Tripoli and in the west of the country where fighting was continuing.