UKIP leader Nigel Farage undergoes Mumsnet grilling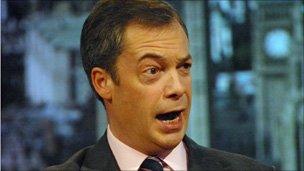 UKIP leader Nigel Farage came in for a rough ride during an hour-long webchat on the Mumsnet website.
He was attacked by site members irritated by his policies on Europe, immigration and maternity leave.
And they were quick to call out suspected UKIP members who had joined the site in order to praise Mr Farage.
The MEP, one of several party leaders to take part in a live debate on the site, admitted it had been "hard work" but said he had enjoyed it.
He was elected UKIP leader again in November, having stood down to campaign for a seat in the House of Commons. After losing out to Speaker John Bercow - and surviving a light aircraft crash - he returned to his role at the head of UKIP, which campaigns for Britain'e exit from the EU.
A full day before the chat started, the site's users began posting criticism of the party, while some sent blank messages in a "silent protest".
But when more UKIP-friendly comments started to appear, backing the party's "common sense" policies, the site's members noted "new posters" had joined the discussion.
One member, Eleison, remarked it would have been an idea to stop people who had not previously registered with the website from joining the discussion, to "stop the inflow of UKIP politrolls".
The party's press officer, Gawain Towler, intervened on Tuesday evening, posting a message saying: "I can assure you that nobody has been asked to troll, people have been directed to the forum because it could be interesting." He added UKIP had to "venture out of our own comfort zone".
By the time Mr Farage joined the discussion, he was challenged about UKIP members taking part. Member FannyFifer asked: "Are you embarrassed by the behaviour of your party on this thread?"
The UKIP leader replied: "Yes, I am embarrassed by it. If they weren't members of Mumsnet before, they should have left well alone."
Asked why he had asked to take part, he said: "Because I thought that if I could survive this, I could survive everything! And also because of the biscuits."
Past party leaders who have taken part in Mumsnet chats have been quizzed about their favourite biscuit.
Mr Farage was challenged on a number of issues - including the party's attitude towards climate change, maternity leave and small businesses, diversity in the party and the European Union.
Addressing claims that there were similarities between UKIP and the British National Party, he said: "UKIP is, always has been and always will be a non-racist, non-sectarian party. There have been repeated attempts through the early years of the party to smear us but nobody in the British press believes it any more."
And, amid criticism that he was "making jokes out of rape" when he described the EU as a "serial date rapist" he said he had been "referring to the rape of Europa - sometimes I know that using classical mythology can cause problems and I certainly wasn't making a joke out of rape".
Several members took issue with his claim that the EU was now responsible for 75% of UK laws - Mr Farage said research commissioned in Germany showed 74% of their laws originated in the EU adding: "Maybe I overstated 1%".
But when another member suggested that was "gibberish" and the real figure was between 10% and 20%, Mr Farage shot back: "Even the government admits that over half our laws are made in the EU, so your figure of 10-20% is baloney."
Another quoted UKIP MEP Godfrey Bloom, who said in 2004, after being given a seat on the European Parliament's women's rights committee: "No self-respecting small businessman with a brain in the right place would ever employ a lady of child-bearing age."
But Mr Farage said Mr Bloom was "100% right" and the view had been supported by others including Lord Sugar: "The point is that very small companies need breaks, need reliefs, from this kind of legislation and that young women are now being denied jobs with many of these firms. The trouble with Godfrey is that it's not what he says, it's sometimes the way in which he says it."
Although his policies got a bit of a drubbing, the UKIP leader himself seemed to win over some Mumsnetters.
"Rinseoffmycustard" said: "I think he's a nice bloke. His politics however stink" while "atrociouscook" told him: "I think you're a lovely guy, so cheerful and full of energy with an engaging smile. Why don't you join the Lib Dems, change some of your opinions and get to the top?"
But Mr Farage admitted that on one policy his party may have got things wrong. He came under fire for an election manifesto statement that "UKIP opposes multiculturalism and political correctness and promotes uniculturalism - aiming to create a single British culture embracing all races and religions."
The issue was raised several times on the discussion thread, prompting the UKIP leader to reply: "On the subject of a single British culture, this is something that was quoted in a UKIP manifesto/policy document last year, and which I think was pretty unhelpful. Hands up, we got it wrong."
David Cameron, Nick Clegg and Gordon Brown have all braved Mumsnet webchats.
Related Internet Links
The BBC is not responsible for the content of external sites.