Ed Miliband's 'vision for Labour' queried by Mandelson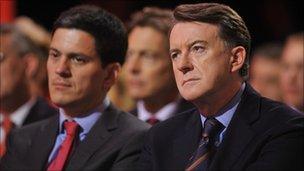 Ed Miliband was "unwise" to say New Labour was dead but offer no clear alternative in last year's leadership contest, Lord Mandelson has said.
In a new chapter for the paperback edition of his memoirs, the ex-Labour minister reflects on how Mr Miliband beat his brother David to be leader.
He says Ed Miliband gave "no strong clue" as to what direction Labour would go in under his leadership.
And he argues David Miliband missed an opportunity to "take the gloves off".
Lord Mandelson clashed with Ed Miliband during the leadership campaign but has since praised his leadership, saying he had made a "good start".
The new material, due to be published in a revised edition of The Third Man on Monday, gives Lord Mandelson's views on events that followed the book's original publication last July.
In the book, the Labour peer describes how he felt "terrible" that David Miliband did not win the leadership contest and was concerned for the party after his brother's victory.
He calls Ed Miliband a "highly intelligent and thoughtful individual" but suggests that he failed to set out a vision for the party during the leadership battle.
"When Ed pronounced New Labour 'dead', he was not only being more categorical than was wise, but quite possibly more than he really intended...Even allowing for the tactical choices he had made in his bid to become leader, however, I was struck by the fact that he had given no strong clue during the campaign as to what alternative to New Labour he envisaged," he writes.
"He was quick to say what he was against: essentially, Tory policies and Tony's [Blair] policies.
"But he rarely said what he was for, apart from a belief in greater social mobility and equal chances in life for the young, more strategic government intervention in the economy, and primacy for individual rights in counter-terrorist law."
Lord Mandelson and Ed Miliband crossed swords during the contest after the former business secretary - a keen supporter of his brother David - warned that Labour risked going down an "electoral cul-de-sac" if it abandoned the policies pursued by Tony Blair and Gordon Brown.
During the contest, Ed Miliband urged the party to get out of its "New Labour comfort zone".
Reflecting on why his preferred candidate lost, Lord Mandelson argues that David Miliband was too timid about defending New Labour's record.
"[David] was fearful that if he championed a renewed New Labour vision too strongly, he would be living up to Ed's stereotype of him as an establishment figure tied to Tony's coat-tails," he writes.
"He ended up in something of a no-man's land - wanting to be the New Labour standard-bearer, but terrified that this would lose him many activists' votes.
"He did defend New Labour's achievements when his brother started to single out a number of them for criticism. But I felt then, and still feel, that he missed an opportunity to take the gloves off and mobilise those in the broader party membership who still celebrated our three terms in Downing Street - and who would have followed a leader with a plan to update and reinvigorate our governing programme rather than bury it."
Lord Mandelson believes the elder brother could have won if he had "reached out" to fellow candidate Ed Balls to secure more support but he says David Miliband rejected this idea as he felt he had enough support to win independently.
"Tactically, there was an obvious interest for [Ed Balls] and David, two political heavyweights able to balance their respective strengths, to work together.
"Although it was fairly clear from the start that Ed Balls was not going to win, he did have significant support to deliver.
"I knew Gordon [Brown] would be leaning hard on him to throw this support behind Ed Miliband, since his distrust and resentment of David's previous on-off leadership challenge had never abated.
"A concerted effort by David to forge a future leadership alliance with Ed Balls might well have allowed him to carry the day.
"David was not persuaded, however, both because he did not want to be placed under any obligation to Ed, and because, until the end, he felt he had enough strength on his own to win."
Despite questioning the rules under which Ed Miliband was elected, Lord Mandelson pledges his loyalty to the Labour leader.
"Ed's victory may have been wafer-thin, but he had played by the rules - even if the rules had ended up giving the deciding voice to union organisers, many of whose rank and file were not Labour Party members.
"And he had won. For lifetime Labour loyalists like me, that was all that mattered. Ed was our leader. He was my leader. I would do all I could to help make his leadership a success."
Lord Mandelson quit the shadow cabinet in June after Labour's election defeat.