Barnsley Central by-election: On the campaign trail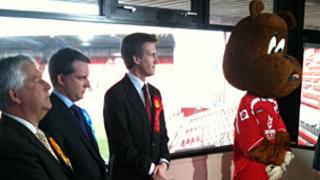 He may have left the military life behind, but Dan Jarvis still knows the value of a good code name.
Labour's candidate in this week's Barnsley Central by-election has dubbed his campaign Operation Honey Badger. There is even a picture of one of these creatures, baring its teeth and oozing menace, pinned to a whiteboard at the party's campaign HQ.
"The honey badger is one of the most ferocious and fearless animals there is," explains a campaign worker a little sheepishly. "It reminds us that we have to fight for every vote."
Mr Jarvis, a former major in the Parachute Regiment, was the surprise choice to fight in what is generally regarded as a safe Labour seat, gaining the nomination by the narrowest of margins ahead of better-established local figures.
'Life experience'
A native of Nottingham who until his recent move to Barnsley was living in Hampshire, he is the first Labour candidate in this seat since 1938 not to have been born in Yorkshire or had connections to coal mining.
He is hoping to succeed the previous Labour MP, former National Union of Mineworkers official Eric Illsley, who was jailed for fiddling his expenses.
Mr Jarvis is a 38-year-old father of two who was recently widowed and has served in the Balkans, Afghanistan, Iraq and Sierra Leone.
"I am in the fortunate position that people acknowledge I am not a career politician," he says. "I have spent all of my working life doing something that most people regard as being pretty worthwhile.
"I think most people accept that that gives me a life experience and a perspective which is valuable in politics."
Although a member of the Labour Party for 20 years, he was prevented by Queen's Regulations from being actively involved in politics. Up until four weeks ago, he confesses, he went out of his way to avoid the media spotlight.
Now he finds himself, along with the other candidates, at Barnsley's Oakwell stadium, competing for attention with the football club's mascot and a member of the Monster Raving Loony Party, at a BBC Politics Show hustings.
The town's voters seem uninterested in this by-election - or the fact that their former MP is currently behind bars, with most expressing to me the view that all politicians are "bent" and Eric Ilsley was just unlucky to be caught.
The people I spoke to in the town centre seemed to be far more worried that none of the candidates from the three main parties was from the Barnsley area.
Liberal Democrat Dominic Carman made a name for himself at May's general election, campaigning against the British National Party in Barking and Dagenham, in the East End of London.
'Pavement politics'
The Lib Dems finished second here in May, just six votes ahead of the Conservatives, with both getting 17% of the vote, compared with 47% for Labour, 8.9% for the BNP and 4.7% for UKIP.
But the Lib Dems' national poll ratings have fallen a fair distance since the general election, so it will be a considerable achievement if Mr Carman, son of the famous defence lawyer George Carman, manages to repeat that second place finish.
Mr Carman says the BNP are much "less visible" than they were in Barking and are not the focus of the campaign in the same way. They also have a very different BNP candidate from Nick Griffin in Enis Dalton, a down-to-earth local woman who is a relative newcomer to politics.
Mr Carman is relying on traditional Lib Dem "pavement politics" - collecting signatures to "save" the town's market from redevelopment, for example - as the backbone of his campaign.
But, judging from the comments of voters in the town centre, the omens are not good for him.
"I voted for them in May, but never again. They'll just do anything to get power," said Diane Haines, a market worker, a view repeated by others.
I did meet one woman who said she had already voted for the Lib Dems by post, saying they deserved to be "given a chance" to show what they could do in government.
The Lib Dems cannot even take comfort in the thought that it might be better for them in Barnsley under a different voting system.
'Long memories'
Barnsley Central is not the ideal test bed for the alternative vote (AV). Until last year, Labour gained more than 50% of the vote, meaning second and third preferences would not come into play.
There was certainly little enthusiasm for AV among the dozen or so voters I spoke to - most just said they wanted to vote Labour. If pushed, they would name the Greens, who are not fielding a candidate at this by-election, or UKIP, as their second preference but not the Lib Dems or the Conservatives. 
"People have long memories round here," said one man. "They remember what Thatcher did to the miners."
The Conservative candidate, 32-year-old businessman James Hockney, talks a good fight - pointing out that he achieved the highest swing to the Conservatives in Yorkshire in neighbouring Barnsley East at last year's election.
There have been no suggestions, as there were at the Oldham East and Saddleworth by-election, that the Tories are deliberately soft-pedalling to help their coalition partners.
Mr Hockney insists he does not feel "overlooked" by Conservative HQ in London, even though leader David Cameron had tried to line up Yorkshire and England cricketing legend Darren Gough to fight the seat for the party, and there has been a distinct lack of big-name Tories making the three-hour train journey from Westminster to pitch in.
Enis Dalton was upbeat about her chances - the BNP having kept a presence in the town since the last election, with a stall at the market on Saturdays - saying she was politically a late developer who only got involved after looking into the party and seeing that it "stood for what I want for my family and my country".
UKIP did not poll particularly strongly here in May - and their candidate, Jane Collins, the daughter of a miner who grew up in nearby Pontefract, is playing the local card for all it is worth, regaling me with tales of childhood trips to Barnsley market when I visit the party's campaign HQ.
With Labour seen as overwhelming favourites to win on Thursday, much of the interest is in how the other parties get on, with a Survation poll for the Mail on Sunday (of 507 registered voters in the constituency on 24-25 February) suggesting the Labour candidate is on 63%, with the Conservative candidate on 13%, the UKIP candidate on 9%, the Lib Dem on 6% and the BNP on 4%.
Here is the full list of candidates in alphabetical order:
Dominic Carman (Liberal Democrats)
Jane Collins (UK Independence Party)
Enis Dalton (British National Party)
Tony Devoy (Independent)
James Hockney (Conservative)
Howling Laud Hope (Monster Raving Loony Party)
Dan Jarvis (Labour)
Kevin Riddiough (English Democrats)
Michael Val Davies (Independent)