NSPCC: Child worker vetting plan has 'disturbing gap'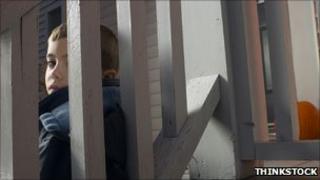 Government plans to change the system of vetting people who work with children in England and Wales contain a "disturbing gap", the NSPCC has said.
The Home Office says it wants to make the scheme more proportionate whilst maintaining all safeguards for those working closely with children.
The NSPCC said it was concerned that some volunteers in schools and children's homes would be exempt.
But it welcomed the coalition's "more proportionate" approach overall.
The government announced earlier this month that checks would be required only for people working "closely and regularly" with young people.
The comments come as MPs prepare to debate the Freedoms Bill - which contains the proposals - on Tuesday.
The planned changes are part of what the government says is an attempt to end Labour's "13-year assault on hard-won British freedoms".
'Very worried'
But the NSPCC said that, under the terms of the bill, a teacher who has been barred but not prosecuted for inappropriate behaviour could become an unpaid, supervised, voluntary worker in a school without any checks revealing the previous behaviour which had led to them being barred.
It added that there would be a loophole in the protection of vulnerable 16- and 17-year-olds because people who worked with them in sports clubs and faith groups would not be vetted under the new rules.
An NSPCC spokesman said: "This is a disturbing gap in the planned legislation which could put children at serious risk of harm.
"It must be addressed as soon as possible to deny offenders a golden opportunity of targeting innocent victims."
For Labour, shadow Home Secretary Yvette Cooper said: "I am very worried about these serious loopholes that the NSPCC has identified in the government's new child protection arrangements.
"Most parents would be deeply troubled by the idea that a teacher who has been barred for sexual grooming of a child could then work as a teaching assistant with no-one aware of their past."
Home Secretary Theresa May suspended Labour's Vetting and Barring scheme in June 2010 and ordered a review be carried out.
The scheme was set up in 2009 after an inquiry into the murders of the Soham schoolgirls Holly Wells and Jessica Chapman by school caretaker Ian Huntley.
Children's minister Tim Loughton has said the revised system will be "less bureaucratic and less intimidating" and "encourage everyone to be vigilant".
Children's charity Barnardo's said the move was "a victory for common sense".
A Home Office spokesman said: "It was clear that the old scheme went too far and needed scaling back to common sense levels, which we have done."
He explained people who worked with children or vulnerable adults would be required to obtain an enhanced criminal records check, and the Independent Safeguarding Authority could bar someone from working if they were considered unsuitable.
"For those who work or volunteer with children in supervised positions, the employer can obtain an enhanced disclosure that contains conviction and where appropriate local police information to enable them to make an informed recruitment decision," he said.
"This is part of the government's commitment to make the scheme more proportionate whilst maintaining all safeguards for those working closely with children or vulnerable adults."