Government drops new powers to axe quangos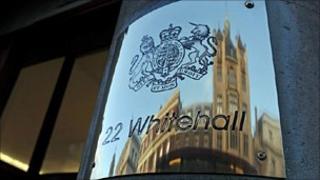 Plans to give ministers sweeping powers to axe quangos without consulting MPs have been dropped by the government.
The so-called Henry VIII powers - a reference to the Tudor king's dictatorial rule - were included in the Public Bodies Bill.
But peers feared the move would give ministers too much power.
Labour is now urging the government to save other doomed bodies such as the UK Film Council from its "bonfire of the quangos".
The Public Bodies Bill will give ministers powers to scrap the film council and almost 200 other public bodies, including the Audit Commission.
The bill also included powers for ministers to scrap a further 150 bodies, including the Advisory Council on the Misuse of Drugs and the British Waterways Board, without consulting Parliament.
King's Speech
But the plans were criticised in a report by the Lords constitution committee and Conservative Whip Lord Taylor of Holbeach said he had listened to their concerns.
He told peers: "I can confirm to the House that the government have accepted the arguments that bodies and offices should be listed in the schedules of this Bill only where Parliament has given its consent in primary legislation."
Labour had described the proposals as a "sword of Damocles" hanging over staff at the 150 bodies listed, which may now get a reprieve.
Baroness Royall, Labour's leader in the Lords, said the Public Bodies Bill was of "extraordinary" low quality as a piece of legislation.
She told peers: "It was an unnecessarily rushed Bill and it is clear that the proposals were not properly thought through and that there was no proper consultation."
She urged the government to now go further and scrap plans to axe other quangos such as the UK Film Council, which funded Oscar winning film The King's Speech - following the government's decision not to sell off land belonging to the Forestry Commission.
"Thanks to the U-turn on forests, our forests seem to be secure at the moment and we are grateful for that. I hope that the government will reconsider their proposals on Regional Development Agencies and the UK Film Council.
"We will all want to celebrate today the brilliant British success at the Oscars last night with "The King's Speech."
Last month, 18 quangos were saved from the axe after being removed from the public bodies bill, including the organisations that select judges, draw up sentencing guidelines and investigate miscarriages of justice in England and Wales.