Warsi's fury over MP's Big Society Ku Klux Klan 'smear'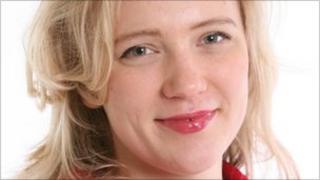 The government has accused a Labour MP of "a cheap and irresponsible attempt to smear the Big Society" by linking it to "racists and extremists".
Labour's Stella Creasy said the coalition's flagship policy to boost community action was so vague it could include the Ku Klux Klan.
She stood by the comments, branding the Big Society "woolly".
But Conservative chairman Baroness Warsi urged Labour leader Ed Miliband to distance himself from the remarks.
The Big Society has been identified by Prime Minister David Cameron as one of the coalition's top priorities - but it has faced criticism that it is too vague and is being undermined by government cuts.
Ms Creasy attacked the idea in the Commons on Monday, saying: "By not setting out the purpose of the Big Society, the government leave themselves open to acknowledging a whole range of volunteering activities that they may not want to support.
"Taken to extremes, for example, the Ku Klux Klan and the English Defence League would be seen as wanting to bring people together for a particular purpose in their local community, but I am sure none of us would want to promote such organisations and their values."
She said left-wing politicians understood that, for an organisation to work, it needed a "sense of purpose and a common goal".
'Offensive'
Baroness Warsi said: "These are shameful comments. This is a cheap and irresponsible attempt to smear the Big Society and degrade it by linking it to racists and extremists.
"For those of us who believe in the Big Society and who have spent their careers combating racial hatred and extremism, this is particularly offensive.
"Ed Miliband must make it clear that these comments are totally unacceptable and he should distance himself from them."
Ms Creasey, the Walthamstow MP, repeated her claim on Twitter after the Commons debate, saying: "Govt don't seem to get it - saying volunteering is all that matters means edl as well as ku klux klan can all claim to act as big society!"
She was criticised for trivialising the debate with "irrelevant" references to the Ku Klux Klan, an American white supremacist group, and the English Defence League, which demonstrates against Islamic extremism in England.
Ms Creasy stood by her comments, telling one critic: "KKK and EDL both voluntary orgs and thus could equally fulfill the ambitions of the big society".
And she was backed by former Labour MP Oona King, who tweeted: "the way Gov is lynching services for most vulnerable kids, feels like Big Society IS being run by Ku Klux Klan!"
Ms Creasy, a social psychologist who has a PhD in social participation, said she had no regrets about using the Ku Klux Klan and the other examples she quoted in her speech.
She told BBC News she wanted to show how "woolly" the Big Society concept was and how, without a clearly defined purpose, it would not work.
'Totalitarianism'
Ms Creasy, a former head of campaigns at the Scout Association, is taking part in a debate on the Big Society in the House of Commons on Wednesday evening, organised by centre-left pressure group Compass.
Ministers have refused to set out in detail what they mean by the Big Society, preferring to portray it as part of a wider move towards shrinking the state and encouraging greater social responsibility.
They have stressed that it is not just about volunteering but also greater transparency and decentralisation of public services.
Jesse Norman, founder of the Conservative Co-operative movement, who has written a book about the Big Society, defended the policy in the Commons.
The Hereford and South Herefordshire MP said: "One marvellous thing about the set of ideas behind the Big Society is precisely that it is not subject to any overwhelming social purpose.
"A purpose for society, and a plan to put it on a purposeful basis, is a recipe for totalitarianism."
Mr Norman is also due to take part in Wednesday evening's debate.