Cameron pledges 'all-weather' friendship with Afghans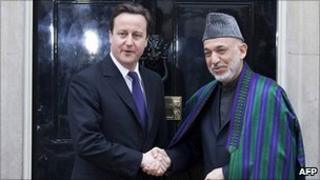 Britain is an "all-weather friend" to Afghanistan and will remain involved in the country after troops are withdrawn in 2015, David Cameron has said.
The prime minister promised there would still be a "strong" diplomatic and trading relationship.
Speaking in Downing Street after meeting President Hamid Karzai, he urged the Taliban to change and make 2011 a "decisive year".
Mr Karzai said Afghanistan would be a "partner but not a burden".
The government has said it wants UK combat troops to leave Afghanistan by 2015.
'Political process'
Last month Defence Secretary Liam Fox said some of the 10,000 personnel could come home this year if "conditions on the ground" were suitable.
After his meeting with Mr Karzai, Mr Cameron told a joint leaders' press conference: "Real progress is being made every single day with our support. The Afghan government is taking greater responsibility for its own affairs."
He added: "It's important we get the wide-ranging reforms that will help create the strong and safe Afghan state... it's a political process."
Mr Cameron also said: "Britain is an all-weather friend, not a fair-weather friend, of Afghanistan."
Mr Karzai said: "Afghanistan will be looking to have a long-term relationship [with Britain]."
During the press conference, Mr Cameron was asked whether he would offer support, in the form of arms, to those leading the rebellion against Muammar Gaddafi's regime in Libya.
He replied that it was essential to "plan for every eventuality" in the country, adding: "It is not acceptable to have a situation where Colonel Gaddafi can be murdering his own people, using aeroplanes and helicopters and the like.
"And we have to plan now to make sure that if that happens we can do something to stop it."
On the Libyan rebels, he said: "We are trying to step up our contact with them so we can get to know them better and what their intentions are and I don't think we should go beyond that for now.
"But clearly we hope that this will come to an end more quickly, but I think our job is to try and look round the corner and plan for every eventuality and I note that other allies in Nato and the US are doing exactly the same thing and that is right."