Europe must help Egypt, Libya and Tunisia, says Clegg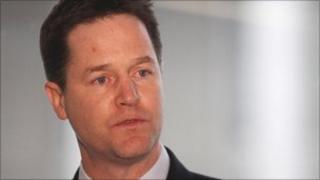 European countries must "step up to the plate" to help North African countries such as Libya and Egypt achieve political reform, Nick Clegg has said.
In a speech in Brussels, the deputy prime minister called for a new response to ensure greater freedom.
On Monday, David Cameron promised to leave "all eventualities open" if Libyan leader Col Muammar Gaddafi's regime continues to kill rebels.
Mr Clegg said North Africa was facing a "defining moment".
Meanwhile, efforts to rescue the last of the Britons who wish to leave Libya continue.
According to the Foreign Office HMS York has docked in Benghazi, in the east of the conflict-torn country, and will transport any remaining British nationals who want to leave.
'No certainty'
Mr Clegg's speech follows widespread unrest in the region, which has seen the fall of governments in Egypt and Tunisia and a revolt in Libya which has resulted in hundreds of people being killed and the loss of government control over much of the country.
The deputy prime minister said: "This is a precious moment of opportunity for the region. Precious because it is the people, especially the young people, who are speaking up, and they are doing so for the most part peacefully and with dignity.
"They are showing that there is more to politics in the region than the choice between repression and extremism.
"It is precious, but potentially fragile too. There is no certainty about the outcome. This is why Europe must play its part."
Mr Clegg's speech comes after sanctions were announced against Col Gaddafi's family, including a freeze of assets and a travel ban.
He said: "Every day on our television screens, we are witnessing the courage of ordinary people taking to the streets to demand greater freedom.
"The countries of the European Union need to match their bravery and get behind this movement for change. They are creating a new world. We need a new response.
"What happens in North Africa impacts on every community in Europe. This is happening in our back yard.
"The EU, individual member states, businesses, and civil society - all of us need to step up to the plate - 2011 is certain to be a defining moment for North Africa, but it is a defining moment for Europe, too. I hope together we can rise to the challenge."
During a press conference on Monday, Mr Cameron was asked whether he would offer support, in the form of arms, to those leading the rebellion against the Gaddafi regime.
He replied that it was essential to "plan for every eventuality" in the country, adding: "It is not acceptable to have a situation where Col Gaddafi can be murdering his own people, using aeroplanes and helicopters and the like.
"And we have to plan now to make sure that if that happens we can do something to stop it."