Eric Pickles warns council over cuts to charity budgets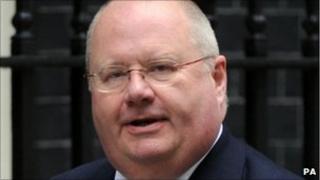 Eric Pickles has said he is considering using the law to prevent local authorities passing on "disproportionate" cuts to charities.
The Communities secretary told voluntary groups they were entitled to expect that cuts to their grants would not be proportionally bigger than cuts to local authority budgets overall.
Charities have said cuts in the public funding they receive endanger David Cameron's Big Society agenda.
Councils face 28% cuts over four years.
Mr Pickles told he National Council of Voluntary Organisations (NCVO) conference that local groups have a reasonable expectation that cuts to their grants would not be proportionally bigger than cuts to local authority budgets overall and that charities should have three months notice of any changes.
'Warning shot'
This might involve amending the Localism Bill which is going through Parliament, although it is unlikely to become law before local authorities agree their budgets for 2011/12.
Sir Stuart Etherington, chief executive of the NCVO, said Mr Pickles' comments were "a warning shot" to councils about the need to continue funding vital services provided by voluntary groups.
"The secretary of state has made it clear that he expects those local authorities that have made disproportionate cuts to the sector to reconsider," he said.
However, he expressed concerns that such a move could encourage charities to seek a judicial review if they felt they had received a raw deal from a local authority.
He also said it "changed the rules of engagement" and showed there were "limits to localism".
'Reasonable expectations'
Mr Pickles said he wanted to make it "crystal clear" that ministers would be watching how councils allocated public funds to charities and voluntary groups.
"We have reasonable expectations of how local authorities will conduct themselves," Mr Pickles said.
"First it is reasonable to expect that councils will not pass on disproportionate cuts to local voluntary and community groups. That they will not inflict bigger reductions to your budgets than they take themselves.
"So if councils are being high-handed - I'll consider giving our reasonable expectations statutory force."
A source at the Communities Department insisted ministers were not seeking to pick a fight with councils but wanted them to act in a reasonable way in their support for the voluntary sector.
Labour has said the budget squeeze on councils - amounting to a 7% cut in annual spending up to 2015 - is endangering core services and town halls have not been given enough time to plan how to minimise their impact by spreading them out over several years.