Ministers accused of 'circle of failure' over IT costs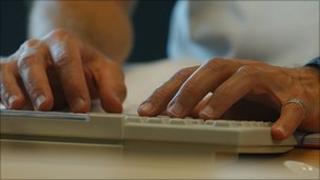 The government's handling of IT is locked in a "vicious circle of costs and failures" and moves at a "glacial" pace, according to a report.
The Institute for Government recommends sweeping changes to the way ministers order new computer systems.
One recommendation is that new IT systems should be built piece by piece and tested by those who use them.
The Cabinet Office said it was already eliminating "unnecessary costs" by stopping or re-negotiating contracts.
The Treasury estimates that government IT costs approximately £16bn per year.
The report urges the government to simplify its computing projects by setting shared standards which would cut costs and reduce duplication.
Flexible approach
The government has already said it is seeking significant savings in its annual spending on IT - and will announce on Wednesday that both the Treasury and Cabinet Office will have to approve IT contracts worth more than £5m.
Lord Adonis, the former Labour minister who is director of the Institute for Government, said: "The billions spent on cancelled IT projects, such as ID cards and National Programme for IT, demonstrate precisely why we need a much more flexible approach to government IT.
"Our report has looked behind the scenes at this often unexplained back-office function that is fundamental to the effective and efficient running of government and public services.
"If a new approach to IT in government is not now put into practice, this will risk further haemorrhaging of public money."
Ian Magee, chair of the Improving Government IT taskforce said: "Government IT offers many challenges but, it seems, few solutions that satisfy everyone.
"There is a well-documented history of too many high-profile and costly failures.
"The good news is that on the basis of the substantial research described in this report, we are convinced that there is a much better way forward for government IT."
'Best value'
The Cabinet Office said it was committed to "driving out" waste on IT across government and, in future, all contracts worth more than £5m would have to be centrally approved.
"This will ensure best value is achieved and that information and communications technology (ICT)solutions bought have a common infrastructure and open standards, allowing them to be used across public bodies," a spokesman said.
About 300 existing IT projects have been reviewed as parts of efforts to save up to £1bn and officials said the cost of a single Department of Health contract with Microsoft had been negotiated down from £82m to £8m during the process.
"What we have shown is that if you are prepared to really look, billions can be saved from overheads and unnecessary costs at the centre of the government - without touching front line services," the Cabinet Office added.