MPs' expenses: Homes claims slumped £4m after scandal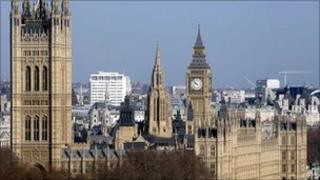 MPs' second homes claims fell by nearly £4m in the expenses scandal's wake, figures released by Parliament show.
The total for 2009-10, when claims were capped following the scandal, was £6.8m compared with £10.7m the previous year.
The Commons has published details of a range of allowances - including office costs, travel and £6.8m paid out in "winding up" costs to retiring MPs.
Overall the total amount paid out fell to £90.7m in 2009-10, down from £95.6m the previous year.
The bulk of claims - amounting to £63.2m - went on staffing costs.
The House of Commons has been publishing the details of expenses and allowances paid out during the year up to April 2010 - when it stopped running the system - and is trying to update its expenses database but has been experiencing "technical difficulties".
The figures cover claims made in 2009-10, the year thousands of claims were leaked to the Daily Telegraph, triggering the expenses scandal which resulted in the entire system being overhauled.
Overall the amount claimed fell, much of which was due to the drop in claims for second homes - which were restricted by MPs themselves in response to the scandal and have since been scaled back further.
The maximum that could be claimed under the second homes allowance in 2009-10 was £24,222.
But according to Parliament's figures only 11 MPs claimed the maximum: Nadine Dorries, Nicholas Palmer, Laurence Robertson, Tim Yeo, David Heath, Michael John Foster, James Purnell, James Gray, Malcolm Moss, Edward Garnier and Hugh Robertson. Altogether 36 MPs claimed more than £24,000.
It meant overall second homes claims dropped to £6.8m but claims under the London Costs allowance, paid to MPs with seats near Parliament, rose from £148,904 in 2008-9 to £676,248.
That was because the allowance itself more than doubled from being worth £2,916 to £7,500 in April 2009. And many MPs were banned from claiming for second homes because they represented seats within 20 miles of Parliament, and told to claim the London allowance instead.
Of the ten MPs claiming the highest amount of allowances overall - which includes travel costs between Westminster and their constituencies - six served seats in Scotland and the remaining four represented places in the north of England.
The then Labour MP for Falkirk Eric Joyce claimed the most, with £200,986. Conservative MP for Kettering Philip Hollobone claimed the least, £45,610, excluding MPs who did not serve the full year.
The figures show David Cameron claimed a total of £128,957, Ed Miliband claimed £126,432 and Nick Clegg claimed £135,267 in 2009-10.
The figures also show that, in total, 221 MPs claimed the "winding up allowance" paid to those who step down or lose their seats at an election to cover office and staff costs. Of those - eight claimed the maximum amount of £42,732 and 46 claimed more than £40,000.
Two former MPs prosecuted over their expenses - David Chaytor, who is currently in prison, and Jim Devine who is awaiting sentence - received "winding up" allowances of £9,477 and £19,832 respectively. Both stood down at last year's election after being barred from standing for Labour.
Figures have not yet been published for the resettlement grants paid out to MPs who lost their seats or stood down at the general election. Worth up to £64,766 to a retiring MP, depending on length of service - the grants have been criticised as "golden goodbyes". Details will be published shortly, the Commons says.
Ipsa, set up to run expenses following the 2009 scandal, now publishes details of MPs' claims every two months and has already published claims made between May 2009 and October 2009. Those figures suggest the expenses bill fell even further, as accommodation costs totalled just over £2m for six months.
But MPs have clashed with the new expenses regulator, which is now consulting on how to change the system again.