Final day of Barnsley Central by-election campaign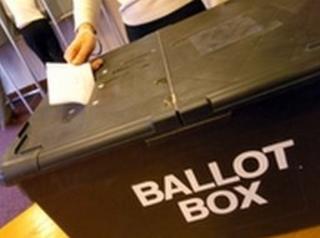 The final day of campaigning is under way for Thursday's Barnsley Central by-election, prompted by the resignation of former Labour MP Eric Illsley.
Nine candidates are competing for the South Yorkshire seat.
Mr Illsley, who became the area's MP in 1987, quit last month after pleading guilty to falsely claiming £14,000 in parliamentary expenses.
Polling stations will be open from 0700 to 2200 GMT on Thursday, with the result expected early on Friday.
At the general election Labour held Barnsley Central with a majority of just over 11,000 and 47% of the vote, with the Liberal Democrats in second place, six votes ahead of the Conservatives.
Labour's by-election candidate for Barnsley Central, Dan Jarvis, urged his supporters to make a final canvassing push, saying: "Whether we get our vote out will determine whether all the hard work of previous weeks pays off."
A Liberal Democrat spokesman said candidate Dominic Carman was running an "excellent campaign" and that he had "gone down very well with the voters in Barnsley Central".
A spokesman for Conservative candidate James Hockney told the BBC: "It's been going well. James is well known locally and we are confident that we can move our vote up from the level at the last election."
The BBC weather forecast for Barnsley on Thursday is for cloudy conditions and a chilly maximum temperature of four degrees Celsius.
The by-election is the second of this parliament, following the Oldham East and Saddleworth contest in January.