Government spending checks are weak, says watchdog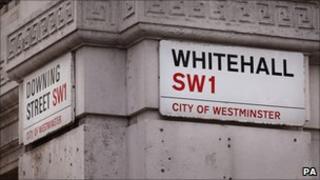 Government efforts to reduce the budget deficit are being undermined by poor financial management, Whitehall's spending watchdog has said.
The National Audit Office found departments were "generally weak" at monitoring their position.
This left them without a "sound basis for making fully informed choices about what activities to stop", it added.
The coalition government's autumn Spending Review outlined cuts of about £80bn by 2015.
Labour has criticised ministers for going "too far, too fast" in attempting to bring down the deficit, endangering the UK's economic future and damaging the quality of public services.
But the coalition government says the spending cuts are needed because of the financial "mess" left behind by the last Labour government and are vital to getting the economy moving.
The National Audit Office found that "good progress" had been made in professionalising government financial management since 2008.
But this was not yet "embedded in the civil service culture, and financial matters do not have sufficient influence over departments' strategic decision-making".
The watchdog added: "It remains unusual for departments to have good information on the unit costs of outputs, measures of productivity or the value of outcomes, especially where outcomes cross departmental boundaries.
"Without information on costs and benefits, departments do not have a sound basis for making fully informed choices about what activities to stop, to change, and to continue, as they were asked to do in the spending review."
The head of the National Audit Office, Amyas Morse, said: "We do not feel that the culture of the civil service has yet taken information-led management, and financial management in particular, to its heart," he said.