Sarah Brown 'didn't trust' mandarin Sir Gus O'Donnell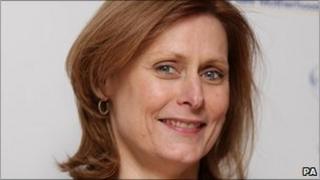 Sarah Brown has revealed that she felt unable to trust civil service chief Sir Gus O'Donnell by the end of her time in Downing Street.
Mrs Brown, wife of former Prime Minister Gordon Brown, also told the BBC that stories of her husband being a bully were "unfair and wrong".
Asked whether Sir Gus was behind the claims, published in the media, she said: "You would have to ask him."
Mother-of-two Mrs Brown's memoirs are published on Thursday.
The former public relations worker, who has been married to Mr Brown since 2000, is one of the UK's most-followed Twitter users.
'Bond of trust'
She revealed that, by the end of her family's three years in Downing Street, her attitude towards Cabinet Secretary Sir Gus had deteriorated.
In an interview with the BBC's Matthew Bannister, on the World Service, she said: "You need to be really confident that the whole of the civil service is there to serve the government of the day.
"You need to be very confident that what you're getting is that support... and it's a bond of trust. And I just felt at the end that I wasn't confident of that with Sir Gus."
A book by Observer journalist Andrew Rawnsley, published early last year, detailed incidents in which Mr Brown allegedly grabbed staff by the lapels, shoved them aside and shouted at them.
Sir Gus later told a committee of MPs that he had spoken to the then prime minister about how "to get the best" out of civil servants, but denied that he had discussed any claims of bullying.
The Cabinet Office would not comment on Sarah Brown's remarks or the contents of her book.
Mrs Brown lived in Downing Street from 2007 until May 2010, when her husband stood down as prime minister following Labour's poor performance in the general election.