Sir Gus O'Donnell: Job applicants swamp civil service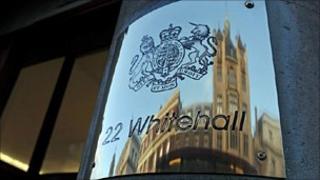 The civil service is being "swamped" by the number of people wanting to work for it and is considering ways to reduce the number of applicants, the UK's most senior mandarin has said.
Fifteen thousand applied for the few hundred graduate scheme places in 2009.
Ministers say the civil service will be "much smaller in future". About 100,000 jobs are expected to go by 2015.
But Cabinet Secretary Sir Gus O'Donnell said budget cuts would "invigorate" the service by allowing more innovation.
Unions attacked the remarks, saying their members would be unable to provide the level of service they wanted due to the stretch on resources.
Nearly all government departments are shedding staff as part of the coalition's £81bn deficit reduction plan with some, such the Ministry of Defence, expected to see cuts of more than 25%.
Asked about the future shape of the civil service during his appearance before the cross-party Public Administration Select Committee, Cabinet Office minister Francis Maude said it was going through a period of "intense change" and "downsizing very significantly".
'Delivery not rhetoric'
"The civil service will, absolutely inevitably, become much smaller, much flatter, less hierarchical. It should do," he told MPs - stressing that in the past it had often been "risk averse" and "hostile to innovation".
The government will give more details of its vision for the civil service in its white paper on public sector reform due in the next few months. Mr Maude said there was no single blueprint for the changes, saying ministers wanted to get away from endless "plans".
"There has been a series of plans, blueprints, reports and white papers over the years but actually not all that much changes dramatically. The rhetoric has often outstripped the delivery. I am more interested in us doing stuff."
A lot of the proposed changes - such as getting civil servants from different departments to collaborate more closely - were "just common sense", he added. "It is not revolution."
But Tory MP Bernard Jenkin, who chairs the committee, said the plans needed to be clearly structured or they would fall by the wayside.
"We look forward to this white paper which will set some milestones about how you are going to decentralise and change the culture because that is what is required," he said.
"No big organisation manages a change programme without a plan. Having a plan is an act of leadership. Without an act of leadership there will be no change."
'More innovative'
Sir Gus O'Donnell, the UK's most senior civil servant, told the committee that one by-product of the budget squeeze would be that it was easier for civil servants to think creatively.
"What the deficit reductions are doing are empowering civil servants - because there are not so many consultants around and they have to think of doing things without spending money - to be more innovative," he said. "I think this is very invigorating for the civil service."
But the PCS union said such comments were "absolutely incredible" given the negative impact on staff of budget cuts.
"What it will really mean, for those of us who live in the real world, is increased workloads and stress, and dedicated civil servants finding they're simply unable to provide the kind of service that they want to," a spokesman said.
As part of future changes, Sir Gus said it should be easier for civil servants to transfer between departments and not be "plonked" in one area after joining the service and stay there for their entire career. But the continuing appeal of the civil service as a career option had become a problem for officials, he added.
"We are swamped. We are trying to devise ways not to have quite so many applicants because it is really difficult to get through the tens of thousands."
The number of people applying for the civil service's graduate recruitment programme - known as the Fast Stream - increased markedly following the 2008 financial crisis - with nearly 15,000 applying in 2009, he said.
In his evidence, Mr Maude also denied suggestions the government's recent U-turns on forest sales and housing benefit cuts were a product of it moving too fast to make cuts and drive through far-reaching changes.
"There have not been that many [U-turns]," he said. "We are a government that does things. If you do a lot of things and press ahead at speed, as we are doing, is everything going to be perfect? Probably not."