Labour MP Alison Seabeck breached disclosure rules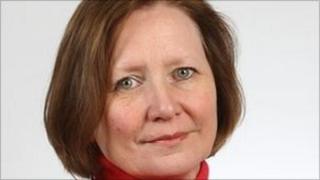 A Labour MP has been asked to apologise to Parliament for breaching rules on the disclosure of relevant interests.
The standards watchdog found that Alison Seabeck did not make clear her indirect links to the Fire Protection Association (FPA) when speaking in a debate on fire prevention in November.
Her partner, fellow Labour MP Nick Raynsford, is an FPA board member.
A spokesman for Ms Seabeck said she accepted the findings and acknowledged she had "misinterpreted" the rules.
The MP would apologise to the Standards and Privileges Committee, which has the power to act on reports by the standards watchdog, he added.
The Parliamentary Standards Commissioner investigated the case following a complaint by the Conservative MP Guy Opperman.
His report concluded that Ms Seabeck, MP for Plymouth Moor View, had not declared indirect interests relating to two relevant organisations when taking part in a debate on the Fire Safety Bill.
'Central interest'
This proposed legislation would require landlords to provide smoke alarms in rented accommodation.
When the shadow housing minister spoke for the opposition on the bill, the watchdog found that she should have disclosed Mr Raynsford's role as a non-executive board member of the FPA and the chair of its advisory council.
It also concluded that Ms Seabeck should have informed the Commons at the time about the former minister's role as vice-chairman of the Construction Industry Council, as the body's members may have benefited from the bill's provisions.
"In the Commissioner's judgement, Ms Seabeck should have recognised that the FPA had a central interest in fire safety which was relevant to the debate on the bill," the committee said. "He concludes that she was clearly in breach of the rules of the House in not declaring her indirect interest."
Commons rules require MPs to declare indirect interests, including those of a spouse or partner, relevant to parliamentary proceedings they are taking part in.
The watchdog said Ms Seabeck had consulted the Registrar of MPs' financial interests about her disclosure obligations when being appointed to Labour's front bench but she had misinterpreted what was required.
The MP told the Commissioner she had not intended to raise matters linked to Mr Raynsford's registered interests during the debate and had only referred to the FPA on the "spur of the moment". But the watchdog said it disagreed with the MP's argument that her indirect interests were "extremely peripheral" to the subject of the debate.
While not at the "most serious end" of the scale of rule breaches, the watchdog said it was important that MPs were open about such matters "in ensuring that members are seen to be acting in the public interest".