Barnsley Central by-election: Lib Dems 'humiliated'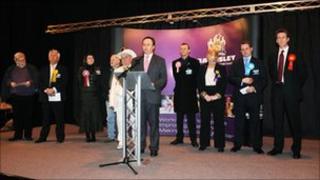 Just over half the electorate turned out last time, at the general election back in May. This time round it was barely one in three who voted.
You could put that down to the wintry cold weather, but more likely it was the fact that the result was all but decided.
Barnsley Central is safe Labour territory. It's had a Labour MP since 1935. They've got another one now, although he is a break from the past.
Dan Jarvis was an army officer, who quit the military for politics. He's in his thirties and from the south of England.
He is the new face of Labour in South Yorkshire as they try to move on from the trauma of Eric Illsley and his fiddled expenses.
There was no sign of anger at Labour for the sins of the former MP. Dan Jarvis increased its majority.
The story of the night was humiliation for the Liberal Democrats. Last year, at the general election, they came in second, beating the Tories by a whisker, but that support has evaporated. Nick Clegg's party slipped to sixth place.
'Got a kicking'
It came in behind, among others, the British National Party and an independent candidate.
The Lib Dem candidate Dominic Carman admitted he'd "got a kicking". The performance was so bad they lost their deposit. This was not a dismal showing in a key marginal seat.
But nonetheless, the Lib Dems were wiped out in Barnsley Central. Some in the party will see this as fresh reason to feel nervous about the coalition.
They'll see it as a sign of the electoral decimation Nick Clegg could face as the price of spearheading public service spending cuts which are controversial and in some quarters hugely unpopular.
The other way of seeing it is that this is the verdict of Labour loyalists who've rediscovered their loyalty to a newly invigorated party. Some are being wooed back by Ed Miliband.
Either way Tim Farron, the Lib Dem Party president, told me he'd rather be in government taking tough choices than in opposition racking up good performances at by elections.
Labour's main challenger was the UKIP. It almost doubled its vote to come in second. It was a distant second but still it was a dramatic upset to outdo the Tories and the Lib Dems so convincingly.
UKIP will hope that Barnsley will serve as a springboard. The Liberal Democrats will want to forget - very quickly - what happened here.
The coalition government is still only months old and it's pushing ahead with its boldest and most controversial changes at great speed.
As David Cameron has predicted, both the Conservatives and the Liberal Democrats can expect to be unpopular at the ballot box for some time yet.
But no matter how you look at it for a party of government to be relegated to sixth place in an election, and to have to pay for the privilege, is humiliating.