Lords debate 'dogbo' sanctions for pet owners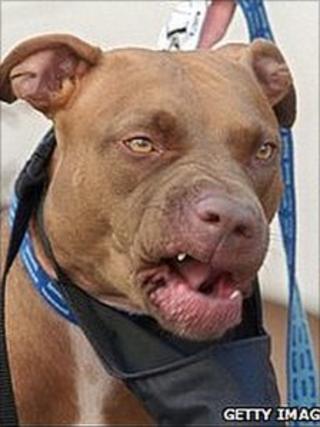 The House of Lords has debated plans to give councils new powers to target the owners of dangerous dogs.
Proposals put forward by Lord Redesdale would see restrictions known as "dogbos" on the owners of problem dogs.
The Lib Dem peer said laws in place since 1991 designed to prevent attacks were not working and owners must be held responsible for pets' actions.
Ministers said they did not back the proposal but were consulting on other changes to provide greater protection.
The peer wants to replace the Dangerous Dogs Act, which has been in place for two decades despite being much-maligned at the time.
'Major problem'
The 1991 legislation banned ownership, breeding, sale or exchange of four types of dogs: the pit bull terrier, the Japanese tosa, the dogo Argentino and the fila Brasileiro.
It also gave police powers to deal with any dogs, of whatever breed, that became out of control in a public place - with the ultimate sanction for a dog to be destroyed. Amendments in 1997 gave courts discretion over this and over sentencing of owners.
Critics have long argued that the legislation was poorly conceived and rushed through Parliament without proper scrutiny but its supporters argue that it was necessary and has improved the situation.
Lord Redesdale told peers that there was a clear need for the legislation to be improved as more than 100 people every week were still being admitted to hospital after dog attacks.
"We have a major problem with the control of dogs in this country," he said. "The situation brought about the 1991 Act has been to create a situation where people own dogs for the wrong reasons. Status dogs are now owned by young men purely to cause fear among other people."
As a private member's bill, the proposed legislation is unlikely to become law.
For the government, Lord De Mauley said ministers were "well aware" of public concerns about dangerous dogs and was considering a number of options, including changes to the law, as part of a consultation on the issue.
The last government ruled out plans to force all dog owners to insure against their pets attacking people, deciding that they did not want to penalise responsible dog owners.
Labour urged ministers to convene a meeting of politicians and animal welfare groups to find a way forward on the issue.