Taser contract criticised by Home Affairs Committee MPs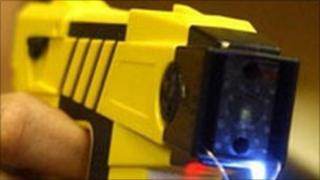 The way contracts to supply Tasers to police in England and Wales are awarded has been questioned by MPs on the Commons Home Affairs Committee.
They call it "unacceptable that there appears to be confusion" over which Tasers are allowed to be supplied.
The inquiry followed the revoking of the previous Taser supplier's licence after an "unauthorised" Taser was given to police during the Raoul Moat hunt.
The MPs are to include the issue in a wider upcoming inquiry into policing.
The Home Affairs Committee's report says it was "concerned" that following the revocation of Pro-Tect Systems Ltd's licence police forces "were close to running out of Taser cartridges".
It also says there appears to be "widespread confusion" about the rules governing the supply of Tasers to police, saying: "Not only did the company distribute an 'unauthorised' Taser to Northumbria Police, it had previously sold the same make of Taser to the National Policing Improvement Agency."
The MPs also question the adequacy of having "a monopoly supplier business model in police procurement" and note that the new official Taser supplier consists of "more or less identical personnel operating in the same premises with a near-duplicate website" as the former distributor.
Next inquiry
The committee's chairman, Labour MP Keith Vaz, said: "The fact that the new supplier is so closely linked to the previous supplier raises serious questions about the authorisation and procurement processes.
"It is is unacceptable that there appears to be confusion in an area of policy that deals with a weapon that has been deployed over 6,000 times by police in this country.
"We will continue to monitor the situation and intend to further examine police procurement as a whole in our next inquiry."
The committee says Tasers have been deployed more than 6,000 times since 2004, although it was not fired in almost 70% of cases.
When the licence was revoked last year, Home Secretary Theresa May said the company, based in Daventry, Northamptonshire, had only been permitted to supply the X12 Tasers to its scientific development branch testing.
The firm also "breached rules governing the secure transport of the devices and ammunition", the Home Office said.