UK troops injured in Iraq and Afghanistan get over £20m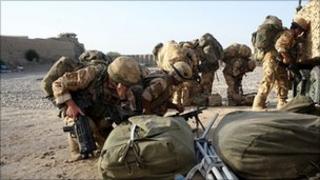 UK troops injured in Afghanistan due to Ministry of Defence negligence have been paid more almost £10.5m in compensation over the last four years, the BBC has learned.
The figure for Iraq over the last seven years is just under £10.4m, a freedom of information request reveals.
Four personnel were paid more than £1m for stepping on mines and another for being injured by a UK Army chain gun.
Soldiers can sue the MoD if they are wounded due to employer negligence.
But the government has a defence in law if they are injured while fighting.
The total paid to 23 soldiers who have successfully claimed compensation for injuries during the Afghanistan over the last seven years is £10.49m.
Sums of £1.22m and £1.1m went to two claimants who were injured while on sniper patrol when another member of their group set off a landmine.
A further £1.21m went to a bomb disposal operator in the Royal Engineers Regiment who lost his right leg and right eye when he stood on an anti-personnel mine.
For Iraq, 38 claimants received a total of £10.39m over seven years.
The biggest amount - £1.19m - went to the commander of a Warrior vehicle who was injured after a machine gun on another vehicle "negligently discharged" its load.
Another soldier, who "inadvertently" stepped outside a cleared area in a minefield, got £1m after losing one leg below the knee.
And £943,750 was awarded to a claimant injured when a rocket launch motor ignited.
The MoD's statement says: "It is alleged that the launcher was over 10 years old and had been stored above recommended temperatures in the open in Kuwait prior to deployment in Iraq."
The majority of service personnel injured in the line of duty are entitled to compensation under the Armed Forces Compensation Scheme (AFCS) and the War Pension Scheme.
At Prime Minister's Questions, David Cameron said that the sums available in the AFCS were being increased, following a review by Lord Boyce, former head of the armed forces.