Clegg urges party 'to hold nerve' on eve of conference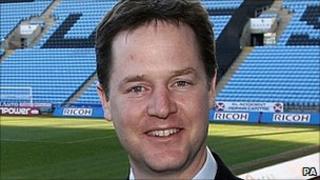 Nick Clegg has urged Lib Dem activists to "keep their nerves" and recognise their achievements in office as they prepare for their spring conference.
On the eve of the event in Sheffield, the Lib Dem leader acknowledged the party was "facing a difficult time" amid criticism of its U-turn on tuition fees and reversals in by-elections.
He told the Independent the party was doing "the right things in government".
Protests against spending cuts are due to take place in the city on Friday.
Organisers say 10,000 will take part in a demonstration in Sheffield - the city in which Mr Clegg's constituency lies - and reports have suggested the cost of policing the conference will be more than £2m.
'Not flinching'
Mr Clegg used an interview with the Independent to try and calm the party's nerves and insist that they were in government "for the long haul".
"We are going to keep our nerves," he said. "We are not going to flinch. We were right to go into government. We are doing the right things in government."
The Lib Dems' poor performance in the Barnsley Central by-election, where the party slumped to sixth in the polls, has increased pressure on the party leadership ahead of May's local council elections and the referendum on the Westminster electoral system.
But Mr Clegg and his allies say they will not be diverted from their task of working with the Conservatives in the coalition "in the national interest".
Although the focus of attention was on reducing the deficit, Mr Clegg said the party should remember what it had achieved in government in restoring civil liberties, providing more money for schools in the most deprived areas, raising tax thresholds for the lowest-paid and increasing the bank levy.
He said his message to activists was to "keep your head up high, be proud of what we are doing, don't be cowed by what people are saying about us and stick to the course".
"These are early days - 10 months into a five-year Parliament," he added.
"All the focus is on the immediate task of the deficit. People have to hold their nerve, not lurch from one thing to the next. You have to work at it day in, day out and deliver over time, so that people see the difference you make. That is what we do and we will continue to do."