Profile: Lord Hanningfield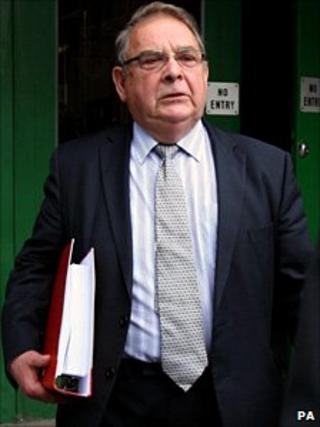 Paul White is probably best known for his work in Essex - where he served on the county council for 40 years - rather than his time in the Lords, which led to his prosecution for expenses fraud.
Elected as a councillor in 1970 - he went on to lead Essex County Council between 2001 and 2010 and was a well-established local figure who can apparently trace his family roots in the area back centuries.
When he was ennobled in 1998, he took the title of Lord Hanningfield from his home village - West Hanningfield, in Essex.
But prosecution over his House of Lords expenses spelled the end of his long career in Essex politics - he stepped down as council leader the day he was charged.
The former livestock farmer had specialised in education issues - he was a supporter of grammar schools, himself being an alumnus of King Edward VI Grammar School in Chelmsford.
As council leader he was best known for a £1.5m scheme to reopen closed post offices in Essex and for announcing plans to set up a bank, nicknamed the "Bank of Essex", in partnership with Santander, to help local firms which were struggling to get finance during the recession.
Beloved pet
He was made a life peer in 1998 after a long career in local politics, which saw him serve as chairman of the Council of Local Education Authorities and the Eastern Region Further Education Funding Council. Between 1997 and 2001 he was deputy chair and Conservative group leader of the Local Government Association.
Made a shadow minister in 2005 - that same year he was behind a parliamentary question which revealed that Tony Blair had spent more than £1,800 of public money on cosmetics and make-up artists for media appearances since becoming PM.
A bachelor who shares his home with his Bernese mountain dog, Jefferson, Lord Hanningfield, 70, became emotional during his trial when he talked about his pet. He said he had needed to return home to look after the dog and had incurred costs for getting him walked.
He added the dog was the only thing in his life outside work.
"As I lived alone I wouldn't survive without my dog - it's someone I could talk to and walk with."
He said he had worked long hours and had allowed work to "take over my life".
Farming income
After leaving school he won a farming scholarship to the US and later became a member of the National Farmers' Union, which reportedly gave him a taste for politics.
During his trial he claimed he had used his farming income to subsidise his work as a councillor and a peer and denied living an extravagant lifestyle: "Most of my clothes are from Marks & Spencer, I enjoy the occasional glass of wine but that's about it. I have no savings, no stocks and shares, nothing like that."
It was claimed he received only the state pension and a small agricultural pension of £120 a month - and would have been entitled to a local government pension for his 40 years on Essex Council but had "never got around to filling in the forms".
In 2009 he was given an award by the Countryside Alliance, which said he had done much to highlight and safeguard the future of Essex's rural communities. He has campaigned to save the Post Office network and to protect rural communities.
But within weeks of the House of Commons expenses scandal breaking in May 2009, he was among members in the neighbouring House of Lords who also found their claims in the spotlight and his case was referred to the police.
He claimed at the time he was the victim of "attacks and innuendo" by an unnamed MP who was out to "blacken my name" over education policy in Essex.
Fellow Essex politician - the Lib Dem MP for Colchester Bob Russell - took that to refer to him. He had raised Lord Hanningfield's expenses in the Commons - and said he had simply drawn matters to "the attention of various authorities". The two politicians had clashed on various local issues before.
At the time the peer defended using a taxpayer-funded chauffeur provided by Essex council while also claiming House of Lords expenses for accommodation, despite living less than 40 miles from Parliament.
He said at the time his two roles were "totally separate" and the car was used for council business, not to take him to the House of Lords.
Lord Hanningfield stood down as council leader and resigned as shadow business spokesman in the Lords - and had the Conservative whip withdrawn.
He pledged to prove his innocence, adding: "I've given 40 years of voluntary service unpaid to this community in Essex, I've saved them millions of pounds and I've done nothing dishonest."
But at his trial he said he had suffered health problems after being charged, including an eye operation, back problems, appendicitis and depression.
Jurors heard he had told police officers: "I have just put so much money into my public life. I regret ever becoming a peer. I wish I had just stuck at the county council."