Phil Woolas prosecution ruled out by CPS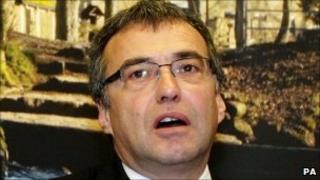 Former Labour MP Phil Woolas will not face a criminal trial over his controversial 2010 election leaflets, the Crown Prosecution Service has said.
The CPS said a prosecution would not be in the public interest because an Election Court had banned him from standing for office for three years.
He lost his Oldham East and Saddleworth seat after a court challenge by Liberal Democrat rival Elwyn Watkins.
His leaflets had falsely suggested Mr Watkins was wooing Muslim extremists.
Last November the specially-convened election court ruled that comments in Mr Woolas' campaign material clearly amounted to an attack on his rival's personal character and conduct.
In a statement, the CPS said that Director of Public Prosecutions Keir Starmer QC had had a statutory duty to decide whether or not to investigate Mr Woolas after the former immigration minister had been stripped of his Oldham East and Saddleworth seat.
Simon Orme, of the CPS Special Crime Division, said that prosecutors had examined the Election Court's judgement and had decided that an additional police investigation into Mr Woolas' conduct would not be necessary.
"The Election Court has already decided that Philip Woolas did make false statements about an opponent," said Mr Orme.
"As a result, Mr Woolas lost his seat in Parliament and was banned from standing for election for three years.
"When deciding to prosecute, we must consider whether a sufficient civil penalty has already been imposed on the suspect.
"In the circumstances, I have concluded that the serious nature of the allegations has been adequately addressed and it is unlikely that a criminal court would impose any significant further penalty. On that basis, a prosecution is not needed in the public interest."
Mr Woolas attempted to challenge the Election Court's decision, saying that his attacks had been political rather than personal.
But the High Court upheld the Election Court's ruling saying that the former immigration minister had been rightly found guilty of "illegal practice".