Police commissioner fear elitist, says Nick Herbert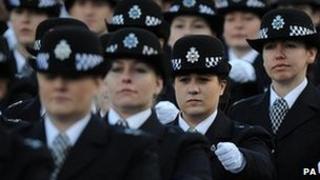 Nick Herbert has said opponents of plans for elected police commissioners are acting out of "an elitist fear" that they might reflect public opinion.
The policing minister is to argue the case for commissioners in England and Wales later, saying they will give people a say in how they are policed.
Some senior officers have raised concerns, arguing that US commissioners have politicised crime fighting.
If legislation goes through the first commissioners will be elected in 2012.
Legislation which will bring elected commissioners into force - the Police Reform and Social Responsibility Bill - is currently going through Parliament. If it goes through, the first police commissioners will be elected on the same day as local elections next year, and elections will be held every four years.
Under the current system the home secretary sets overall strategies and provides national funding to police authorities - made up of local councillors and appointees - who fix local budgets and hold police forces to account - except in London.
The new plans would see police commissioners replace 41 police authorities, which the government argues are remote and invisible, and manage police budgets, set local policing priorities and hire and fire chief constables.
'Tough on crime'
In a speech to the Institute for Public Policy Research later, policing minister Mr Herbert will say commissioners should be "big local figures" with a powerful mandate to drive the fight against crime.
He told the Telegraph it was "nonsense" to suggest extremists could be elected and said it was a "disreputable" argument that people could not be relied upon to make the right decisions.
"Dig deeper and what you find is an elitist fear that elected commissioners might actually reflect public concern and pledge to get tough on crime. It is strange that so many democrats are wary of democracy."
Last month Welsh Assembly members voted down plans for police and crime panels - which will scrutinise police commissioners - raising questions about whether commissioners would be able to be introduced in Wales. Mr Herbert has said they will go ahead.
Hugh Orde, head of the Association of Chief Police Officers, has previously warned that senior officers might quit over the plans and said any suggestion the police were under political influence could undermine democracy.
Acpo is currently working with the Home Office on a protocol setting out how commissioners should work with their chief constables.
The chairman of the Association of Police Authorities Rob Garnham, himself a Conservative councillor, has said he is worried about the cost of the new system - which he put at £100m - and "politicisation of policing" and asked whether an election system would represent all the communities police had to represent.
He told the BBC last year that 17-member police authorities had to make decisions "in a consensual collegiate way" but placing their work into the hands of one individual "risks politicising" policing.
According to pre-released extracts from his speech, Mr Herbert will say the legal "control and direction" of the force will remain with the chief constable.
"It's fundamental to our system that the police remain operationally independent," he will say.
"No politician can tell a constable - a sworn officer of the Crown - who to arrest. Forces will continue to be under the 'direction and control' of their chief constable."
He says elected police commissioners will "give the public a voice in how they are policed" while "liberating" police chiefs "to be crime fighters rather than government managers".