MPs say pre-war vote by Parliament must be formalised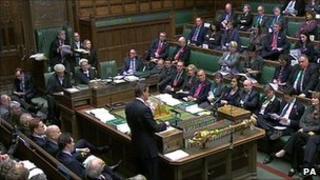 The expectation that Parliament gets to vote on whether to send UK troops into action should be included in a guide to how government works, MPs say.
The Political and Constitutional Reform Committee said it was "surprising" the concept was not mentioned in a draft "cabinet manual" published recently.
The extent of Parliamentary involvement in decisions to go to war was "vital" and needed more clarification, it said.
MPs approved UK participation in action in Libya earlier this month in a vote.
However, some MPs expressed concerns that the debate had been a day after UK warplanes had carried out their first strikes against targets in Libya to enforce a UN-backed no-fly zone.
MPs approved the decision to go to war in Iraq in 2003 but did not explicitly authorise previous UK military interventions in Bosnia, Kosovo, Sierra Leone or Afghanistan.
Cabinet Secretary Sir Gus O'Donnell is in charge of the civil service's attempts to draw up a single document spelling out the conventions that underpin how government works.
And the cross-party committee said it was surprised at the omission because he had previously accepted that it had become a convention that Parliament should be given the opportunity to authorise military action before it takes place except in emergency situations.
"Given the high political and public profile of this issue in the context of the decision to go to war in Iraq, we find surprising the omission from the draft manual of the convention," the committee, chaired by Labour MP Graham Allen, said.
"This is a prime example of a convention which involves Parliament but which relies on the very executive which Parliament is holding to account to take the initiative to allow Parliament to hold a debate."
Urging the cabinet secretary to include the concept in the revised draft of the document, the committee said that the issue remained unclear given that MPs had never debated proposals floated in 2008 to make Parliament's role in approving military action more explicit.
"This indicates that the nature of the convention, if it indeed exists, is by no means clear," it adds. "We regard it as vital this matter is clarified and we intend to investigate it separately."
Libya vote
MPs approved UK intervention in Libya, as part of a coalition formed to enforce a UN resolution, following a six-hour debate earlier this month.
However, some MPs claimed that Parliament should have sat on a Saturday to allow MPs to debate the issue before UK pilots made their first sorties.
Prime Minister David Cameron said Parliament had been given the opportunity to debate and vote on the issue at the first suitable opportunity when as many MPs as possible could attend.
Sir Gus has said the cabinet manual, which was commissioned by former prime minister Gordon Brown in 2009, is designed to consolidate existing rules and conventions of government.
He told the Public Administration Committee last month that the guide was not legally binding and he did not see it as a "first step" towards a written constitution.