Nick Clegg's unpaid intern says pay reform long overdue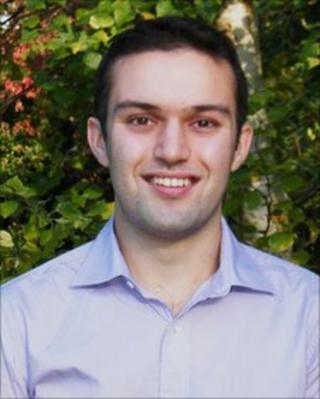 Nick Clegg says he no longer wants people to get internships in Westminster just because their parents "whisper in the ear" of the right person at their golf or tennis club.
The deputy prime minister, a former intern himself, also says that in future - although not until next year at the earliest - "proper remuneration" will be paid to anyone who secures a work placement with his party.
This will come as music to the ears of Jonny Medland who worked - for free - for Mr Clegg for three months in 2007 when he was Liberal Democrat home affairs spokesman.
Jonny told the BBC News website: "They should definitely be paying people - every party should.
"If you're working for eight hours a day for weeks on end I struggle to see how you can defend not paying people."
The Lib Dems said they would start paying interns at their party HQ after Mr Clegg's speech on Tuesday.
But a party spokesman later told the BBC it would not happen straight away - and campaigners claim the party is currently advertising for a dozen unpaid interns.
The party says Mr Clegg's pledge does not apply to interns working in the Parliamentary offices of Lib Dem MPs.
The wheels of the Westminster machine are greased by a veritable army of ambitious young people - some 450 or so - working for next to nothing.
'Felt valuable'
A quick trawl of the website www.w4mp.org - where many of these posts are advertised - shows MPs from all three major parties looking to recruit some extra help, gratis.
Conservative MP Aidan Burley wants an intern for at least three months - the reward? "Reasonable travel expenses".
Labour's Rachel Reeves is offering two internships, 3-5 days a week, minimum three months, for "lunch and travel expenses".
Lib Dem David Ward wants someone for at least three days a week for three months - he'll pay "some expenses".
Jonny Medland, who is now a member of the Labour Party and on his way to becoming a lawyer, has no complaints about working for the now deputy PM - apart from the lack of salary.
"He didn't have a big staff so there was quite a lot of stuff to do. Research on things that were going through the Commons, drafting articles for local and national press, general correspondence work with constituents. The sort of stuff I imagine all MPs' interns are doing.
"It was really enjoyable. It was a very nice office. I was given a lot to do and was made to feel quite valuable. It definitely wasn't the case that we were exploited - we got a lot of good experience in return.
"Nick Clegg was out of the office quite a lot in his constituency but he was very good to work for. He was a very pleasant guy."
From June to September, in the summer after his first year at Oxford University, Jonny worked five days a week, usually from about 9.30am to 6pm.
He was one of several interns in Mr Clegg's Westminster office and he believes there were more in his Sheffield constituency.
Jonny was able to commute in each day from his parents' house just outside London and his travel expenses were reimbursed.
"It was a case of 'Bring your train receipt, we'll cover it,' but I can't imagine that any sort of accommodation would have been paid for so anyone who couldn't go home each night would really struggle.
"It's an experience I don't regret at all, but by definition it's incredibly exclusive. You really need to live around London and be able to afford not to be paid, so you'll always end up freezing out people who can't work on those terms."
'Impact on democracy'
Research by the Unite union in 2009 suggested that parliamentary interns carried out about 18,000 hours of unpaid work each week and 44% did not even receive travel and food expenses.
Ben Lyons - a former intern himself, although not in Westminster - co-founded campaign group Intern Aware.
"It's absolutely appalling," he said.
"It's basically impossible to start a career in Westminster unless you work for free and surely that's having a big impact on our democracy because the only people who can do that are middle class kids from London.
"We get the impression that interns are basically running many MPs' offices. We've heard of MPs - one prominent London MP in particular - who have up to 10 interns doing all their constituency casework.
"They're doing things that in the past a paid researcher would have done. But at the other end of the spectrum we've also heard about interns being asked to do things like picking up an MP's laundry."
Intern Aware has written to more than 20 MPs who have recently advertised for unpaid workers, warning them they could be breaking the law by not paying the minimum wage.
Most have not replied, but two who have are Conservative Jake Berry and Labour's Chuka Umunna.
Mr Berry said his internships were "more along the lines of work experience".
"It's a great experience, and if no-one wants it, no-one will take it. I do not believe in wasting taxpayers' money, so if someone wants the experience, great," he said.
Mr Umunna's office initially said that "as a former employment law solicitor" he was "well aware of the legal context in this area", and interns were not used in the same way as staff members and were "under no obligation to work".
'Experience'
His spokesman later clarified that he had decided to no longer employ interns at all because he was unable to pay them the living wage - a state of affairs he blamed on Ipsa - the Independent Parliamentary Standards Authority - for failing to provide the resources.
But Ben Lyons says some MPs do pay their interns the living wage - currently £7.85 an hour in London - and cites the example of Stella Creasy, Labour MP for Walthamstow.
Some MPs have actively campaigned on the issue - former Lib Dem MP Phil Willis was one of them. He also blamed Ipsa for failing to make paying interns mandatory, and for not providing adequate funds for any MP who might wish to do so.
All MPs have a staffing budget of £115,000 a year - ministers get more on top of that - and how they choose to allocate that money is up to them.
An Ipsa spokesman said: "Our position is that it's not for us to lead or lobby on the position of interns. We allow for interns to be paid or unpaid, and it's up to MPs which they choose.
"The difference between an intern and a worker is that an intern is not required to carry out a specific duty. They help out, do bits and bobs, soak up experience, but they're not contracted to perform a role.
"When we pay out money for staff we ask the MP to confirm what their status is, but the MP decides that status."